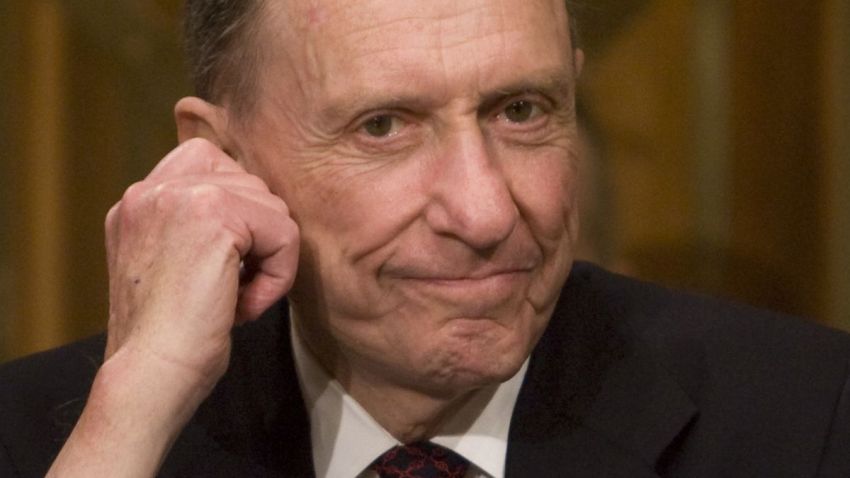 PITTSBURGH –Arlen Specter has been a Republican officeholder for more than 40 years, but you hardly would have known it Saturday when he made his debut in front of the Pennsylvania Democratic Party.

Here, at the annual state committee meeting, Specter had his unofficial coming out party and he aimed to please. Using a teleprompter for his speech—"I wanted to express myself with precision," he said—and sporting a blue and red donkey tie, he told an audience of 300 Democratic elected officials and activists he felt "welcome and comfortable."

"Maybe it's no coincidence that I feel so comfortable with Democrats, because I've spent most of my life with Democrats," Specter said, a little over a month after leaving the Republican Party.

"Maybe it's no coincidence that I've been derided for years by the far-right as a Republican in name only," he said. "Well, I'm no longer a Republican. I'm again a Democrat, and I'm pleased and proud to be a Democrat."

He noted his own Democratic roots and referred to the GOP as the "obstructionist Republican Party." He ticked off his support for increasing the minimum wage, abortion rights, stem cell research and civil liberties in a time of war.

Specter paid homage to Democratic icons such as FDR and JFK, and singled out GOP bogeymen too. Without referring to the name of his likely Republican opponent, former Rep. Pat Toomey, Specter warned that his foe would be a senator who is "far outside the mainstream, a senator who makes Rick Santorum look like a liberal."

It was a bravura political performance, and one that earned him a standing ovation from the crowd—except for possible primary challenger Rep. Joe Sestak, who rose from his chair briefly and lightly joined his hands in a gesture that fell short of a clap.

Yet Sestak wasn't the only skeptic at the weekend meeting.

At the invitation of Pennsylvania AFL-CIO President Bill George – a ubiquitous presence on the Democratic scene – Specter appeared at a union rally Saturday morning where he was greeted by a mix of cheers and boos by members who say they are waiting to see how Specter comes down on the Employee Free Choice Act.

Some Democrats had a hard time getting accustomed to idea of the five-term senator as a member of their party. Jim Burn, chairman of the Allegheny County Democratic Committee, acknowledged that it was "a little surreal to see someone here who many men and women in the room spent 30 years trying to beat."
Pam Janvey, a Democratic committeewoman from Bucks County, found Specter's presence at the gathering more than a little odd. "Am I in a dream?" she asked.

Janvey said that Specter hit all the right notes in his speech on Saturday and that although she had worked to defeat Specter in the past and never voted for him, she would back him this time around.

"Even when I have worked against Arlen over the years," Janvey said, "I never felt the kind of fear that I did when I worked against Santorum. So that makes it easier for a lot of us."

Although Janvey said that she sees eye to eye with the senator on many issues, she pointed out that other women she talks to still harbor ill will toward Specter because of his harsh questioning of Anita Hill during the Clarence Thomas Supreme Court confirmation hearings nearly two decades ago.
At the highest levels of the state party, however, no such doubts appear to exist. On Friday, in an enormous bear hug of a speech, Gov. Ed Rendell declared that Specter "saved the country" in reference to the senator's vote for the $787 billion federal stimulus package– a decision that the governor described in heroic terms on Friday.

"Arlen Specter understood what was good for the country," Rendell said. "He cast a vote knowing that it would put his political career in peril. He cast that vote fearlessly."

Rendell, as well as Democratic Sen. Bob Casey, who also delivered a rousing endorsement of Specter on Friday night, didn't say they were directing their remarks to Sestak, but they didn't need to.

Speaking to reporters earlier in the evening, Rendell said that it would be "tragic" if the second-term suburban Philadelphia congressman entered the race.

And while Specter, his wife Joan, Rendell and a group of other party heavyweights sat at the head table Friday, Sestak was buried in the rear of the hotel ballroom – sitting just a few feet from the exit doors.

As Rendell and Casey heaped praise on Specter, Sestak sat quietly sipping a cup of coffee.

Sestak said the lack of establishment support did not worry him.

"I honestly do believe when you go in a V.F.W. post at night and they're looking you in the eye and they don't have health insurance or something like that," Sestak said, "they're not asking if Ed Rendell endorsed you or not."

Despite the warm embrace of the state's top Democrats, Specter appeared to take little for granted at the meeting. Even before the bartenders started mixing cocktails Friday night, Specter and his wife, Joan, herself a former Philadelphia GOP city councilwoman, were working the foyer outside the Westin Hotel ballroom. Specter moved slowly through the crowd, stopping to shake almost every outstretched hand, while a coterie of aides hovered around him, collecting business cards.

Specter was back at it again on Saturday morning, before his big speech, dropping by nearly a dozen caucus meetings. He ducked into each one for a few minutes, introduced himself, and then left, often using a white handkerchief to lightly wipe his brow before entering the next room.

By the end of the weekend, he had clearly converted some -- but not all -- of his skeptics. Robert Frank, a state committee person from Pittsburgh who leads a 230-member association of local Democrats, said that he and some of his members remained tepid about Specter.

"I think he still has to prove himself as a Democrat," Frank said. "If he's not voting for my issues then what's the difference if he has a 'D' or an 'R' next to his name?"
Copyright POLIT - Politico