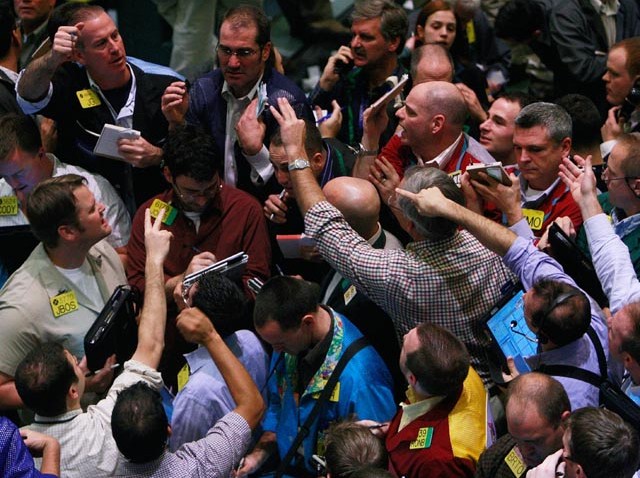 A one-letter difference, perhaps mistakenly entered on a computer or phone keyboard, could have caused the stock market to plummet and panic Thursday, but it also brought renewed attention to the perils of computer-driven trading.
"The potential for giant high-speed computers to generate false trades and create market chaos reared its head again today," said Sen. Ted Kaufmann, D-Del., who has long pushed for more government scrutiny of what is known as "high frequency trading" that is made possible by computer-driven trading algorithms.
"The battle of the algorithms — not understood by nor even remotely transparent to the Securities and Exchange Commission — simply must be carefully reviewed and placed within a meaningful regulatory framework soon."
U.S. & World
Both Kaufmann and Sen. Mark Warner, D-Va., said Thursday Congress needs to investigate what happened today.
Those in the trading business know part of the answer.
"I think the machines just took over. There's not a lot of human interaction" in trading, Charlie Smith, chief investment officer of Fort Pitt Capital Group, based in Pittsburgh, Pa., told the Associated Press.
Smith is right, and the issue is widespread; computer trading, based on algorithms of what will and won't sell and at which price, now accounts for between 60 and 70 percent of the stock market volume in the United States.
"We've known that automated trading can run away from you, and I think that's what we saw happen today," he said.
The error was computer-emanated, but perhaps driven by human hands: "A trader entered the letter 'b' — as in 'billion' — when he or she meant to type 'm,' for 'million,' shortly before 2:47 p.m. New York time," for a trade that reportedly involved Procter & Gamble, sources told CNBC. The floodgates opened; the stock market fell 1,000 points briefly.
"We have a major market issue here. It should never have dumped what it just dumped," Joe Saluzzi, co-manager of trading at Themis Trading in New Jersey, told Reuters. "This is an electronic market where bids can be canceled at the flick of a button, and everyone canceled at the same time. We should be down big today, but not 1,000 points."
While algorithms are set for a variety of stock trading tools, there also is software is in place to help trading and banking companies prevent mistakes such as today's from happening, said Bob Dorman, publisher of Active Trader magazine.
"Say you meant to put in 10,000 shares, but you could have hit a couple too many zeroes and come up with more — usually your firm's risk management software is going to catch that," he said.
"Generally, if you've got a group of traders, you have different limitations set up on each trader individually, and limitations on the activity of the group that usually would catch errors that are so large that would have caused this."
Right now it's not known whether such software was in place, was triggered, or how quickly it was triggered if it went into effect.
"Technological developments have far outpaced regulatory oversight; and traders who buy and sell stocks in milliseconds — capitalizing everywhere on small price differentials in a highly fragmented marketplace — now predominate over value investors," Kaufmann said last fall, in testifying before the Senate Banking Subcommittee hearing on market structure issues.
"We've gone from an era dominated by a duopoly of the New York Stock Exchange and Nasdaq to a highly fragmented market of more than 60 trading centers ... Moreover, in just a few short years, high frequency trading – which feeds everywhere on small price differences in the many fragmented trading venues — has skyrocketed from 30 percent to 70 percent of the daily volume."
Copyright MSNBC - MSNBC