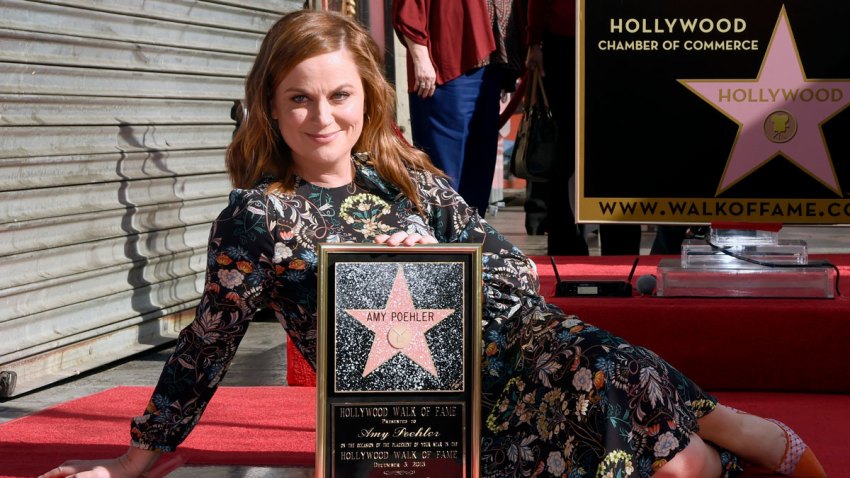 Comedian and accomplished actress (and producer, Golden Globes host, writer, director and all-around awesome person) Amy Poehler was honored with a star on the Hollywood Walk of Fame Thursday in Los Angeles, and with the help of friends Mike Schur and Rashida Jones, Poehler's celebration of such an achievement was both heartfelt and, obviously, pretty hilarious.
After Schur agreed that Poehler was indeed the 2,566th best actress in America, Jones took the podium and clarified that she and her "Parks and Recreation" co-star aren't actually friends, but she showed up because a good friend of Poehler's dropped out last minute. She then proceeded to read a speech from said-friend, who happened to be Johnny Depp.
The lengthy letter, which opened with "my golden haloed-angel baby," included a lot of detail about "his" love for Poehler, and Rashida decided to end it before things got weird. Then it was Poehler's turn to speak.
"I've been told I'm in-between Roseanne Barr and Sally Field, which also describes my career in a way, if I play my cards right. I wanna share a story with you from this morning," she began.
"I woke up and I felt so excited to be here with my friends and family and I had tea with my family and I received a text from Carol Burnett, which was really exciting and I'm front-door bragging about that, she did text me this morning. We're friends. I have her number. And she said, 'Best of luck on getting your star.' Then I went to the gas station and as I was pumping my gas, I left my wallet on the roof of my car, and I drove away, and I thought I had lost my wallet forever, but it was returned to me just an hour ago from a charming, slim gentleman who works at Ford models, who goes by the name of Dilly. And I tell you this story to remind us that people can be good, that no one can do it alone, and I still pump my own gas"
Poehler continued by thanking a number of her colleagues and friends before acknowledging her family and upbringing. "Growing up as a daughter of two public school teachers, I knew very little about Hollywood or Los Angeles and I'd never seen the Walk of Fame. I had no brush with greatness. I knew no one that was an actor or writer. I never imagined I would be here, truly. It's a genuine honor."
And she made sure to give an extra special (and sweet) shout out to her two young boys, Abel and Archie. "Thanks for coming to this weird thing, and thank you for understanding all the time when I have to go to work. I really appreciate it. You guys are awesome guys. Thank you for filling me with love and laughter every day."
Poehler and Tina Fey are set to host the "Saturday Night Live" holiday special on December 19 on NBC.
WATCH: Tina Fey & Amy Poehler Play the "Most Likely" Game With E! News and the Results May Surprise You
Copyright E! Online