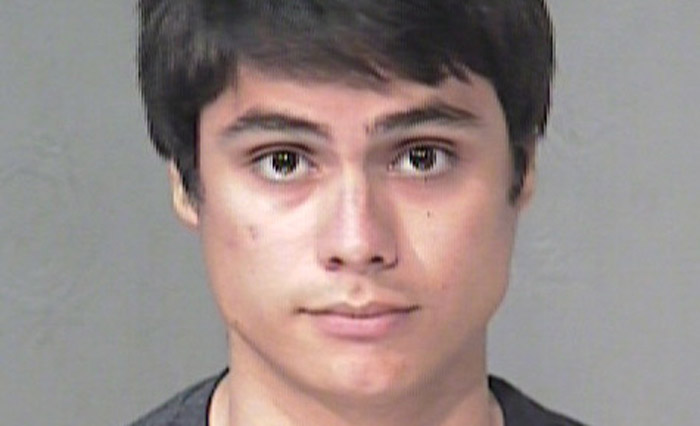 Kiowa Gordon, best known for his role as werewolf Embry Call in "The Twilight Saga" films, was arrested for two outstanding warrants in Arizona on Tuesday, according to the Mesa Police.
"Kiowa Gordon was a passenger in a vehicle registered to him when he was stopped by the Tempe Police Department," Mesa Police said in a statement released on Wednesday. "During a registration check on that vehicle, it showed the registered owner (Kiowa Gordon) had two outstanding misdemeanor warrants for his arrest. The first warrant was issued by the Mesa Municipal Court ($1000 bond) and the second had been issued by the Scottsdale Municipal Court ($500 bond).
VIEW THE PHOTOS: Sexy Shots Of The 'Twilight' Werewolves
"Kiowa Gordon was arrested by Tempe PD for the outstanding warrants," the statement continued. "There were no new charges as a result of Tempe Police Department's contact with Gordon."
According to police, the now-21-year-old actor was arrested by Mesa PD on September 2, 2010 for driving under the influence of drugs after his vehicle was seen swerving into the bicycle lane. He was processed for DUI and released with a citation to appear in the Mesa Municipal Court.
VIEW THE PHOTOS: Mug Shot Mania
A warrant for Gordon's arrest was subsequently issued on February 25 after he failed to appear for court.
A rep for the actor was not immediately available for comment on the arrest when contacted by Access Hollywood on Wednesday.
In addition to his role as a shape-shifting member of the "Twilight" wolfpack, Gordon is slated to star in the upcoming horror thriller "Into the Darkness," alongside Mischa Barton and John Schneider.
VIEW THE PHOTOS: Stars Declare Themselves 'Team Edward' Or 'Team Jacob'
Copyright 2011 by NBC Universal, Inc. All rights reserved.
This material may not be published, broadcast, rewritten or redistributed.
Related Content from AccessHollywood.com:
VIEW THE PHOTOS: See The Men Of 'Twilight' - Shirtless!
PLAY IT NOW: Access Extended: 'New Moon' Werewolves Rip Into Vampires
PLAY IT NOW: Access Hollywood Live: Lea Michele Melts As She Meets Taylor Lautner
More from Access: [ Kiowa Gordon Arrests Courts ]
Copyright NBCAH - Access Hollywood