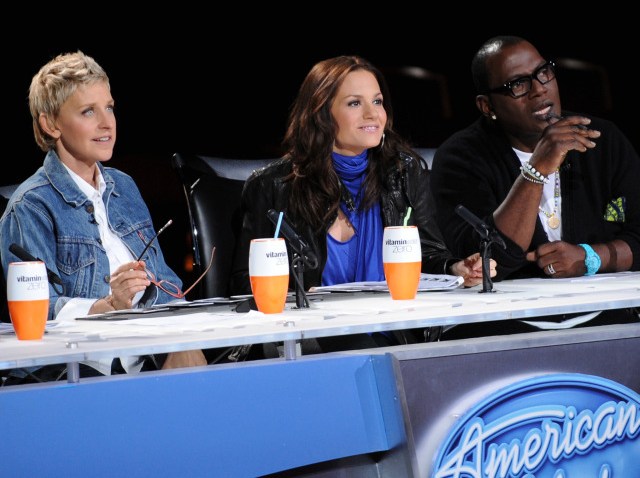 Simon Cowell's departure is a turning point in the history of "American Idol." He's been the face of the show for nine seasons, and the person most responsible for making it such a success. It's no secret that his decision to leave makes the show more vulnerable than it's ever been, with a lot of fans claiming that they'll be exiting the show along with him.
And who knows, maybe that will actually happen. But let's be positive. Simon's departure also gives "Idol" an opportunity to make major changes and re-invent itself to remain hip and current.
Ryan Seacrest isn't going anywhere, but beyond that there's no scenario that the network and the show's executives shouldn't consider. Here's what I would do in their place:
Clean house
The worst thing "Idol" could do is keep all three remaining judges. That puts tremendous pressure on whoever is picked to replace Simon, and ensures all the media attention centers on that person rather than the rest of the show. Was the intense focus Ellen DeGeneres received as she stepped into Paula Abdul's old seat fun for anyone? No. So don't make that same mistake again.
When the three original judges were still around, it made sense to keep the band together. Sure, the jokes got stale and everyone started settling into the same old roles every year, but there was no reason to mess with success.
However, Paula's departure shattered that easy rapport between the judges, and with Simon following her out the door, there's no sense in keeping everyone around just to avoid a mass transition. Embrace change! Try something new! You have nothing to lose but your "dawgs" and your "pitchy" and your random allusions to mushy bananas.
In particular, it's probably time for Randy Jackson to gracefully retire. After nine years sitting in the same seat and saying the same things, what more can he show us?
Let one of the other judges stick around if you must, but keeping everyone is a sure recipe for trouble next year.
Make two phone calls
Get Harry Connick Jr. and Neil Patrick Harris on the phone. Like, right now.
Both men were awesome on "Idol" this season — Connick as a mentor and Harris as a guest judge at the Dallas auditions. Both are cuttingly funny, and both have the star power to fill the void Simon leaves behind. They're both busy people, but either would be a great judge, the kind who could handle the high expectations and would incentivize a lot of wavering fans to give the show another chance next year.
(And if both of those guys say no, I'm available.)
Retire 'pitchy'
Seriously. Harry Connick Jr. was right: What does that word even mean? Just say they were off-key or that they sucked.
Select the semifinalists live
There's always a lag time between when "Idol" picks its 24 semifinalists and the date that the broadcast announcing those selections goes on the air. The result? Spoilers galore.
Though Tim Urban was a late addition this season (sorry, Chris Golightly) and the Internet was filled with rumors that Michael Lynche had been disqualified, ultimately, anyone with a browser and a search engine could have nailed 23 of the 24 with about five seconds of effort in January.
That makes no sense whatsoever. It makes viewing the episodes centering around the auditions and the Hollywood rounds a waste of time. Why watch the manufactured drama when you already know the results? If I know that Angela Martin has already been eliminated as I'm watching the show wring every tear possible over her heartrendring story, that just makes me mad at the emotional manipulation.
Here's what I would do: Air the footage of that selection process live. Make it available online so that anyone interested can crack open a browser and see it in real time. Then, that night or the following night, run the usual two-hour episode with the highlights and make the announcement official (and maybe even pick those final couple of spots live for added drama).
If nothing else, that should decrease productivity across the country as people log on to view the website, and will create enough Twitter buzz to finally knock Justin Bieber off the list of trending topics.
Change the selection criteria
This wasn't the worst season of "American Idol," but it was the dullest — and that's saying something.
The dirty little secret of "Idol" is it has to do without the drama that helps sell other shows. There's no Kate Gosselin, who everyone will watch just in the hopes of seeing her fail, or a Russell Brand, who makes everyone tune in to root against him. Everyone gets along every season on this show, or so it seems from the footage we see.
But that's no advantage for "Idol" in the ratings. This year, "Dancing With the Stars" eclipsed it in the ratings at times, in large part because people tuned in to root for Gosselin to fail. "Idol," meanwhile, was just too darned nice, to the point where there were legitimate questions about whether all of the finalists really wanted to win.
In fairness, changing the niceness factor is a lot trickier than it sounds, and "Idol" has not had great luck doing that in the past. When "Idol" has tried, it's been thrown off because the voters have rebelled and voted the singer out. (Remember Brenna Gethers? Or Tatiana Del Toro?) But "Idol" also hasn't found someone with that kind of edginess with the skills to match — someone good enough to win and brash enough to know it.
If it can find a singer or two like that in the next round of auditions, that will make for better television.
Integrate the guest acts better
First of all, there is no scenario where I want to see acts who aren't performing live, but who have previously taped their songs to air whenever the show gets five extra minutes. Ryan can do that anytime he wants on his radio show. Don't do it here.
Season nine was the most blatant yet at bringing in random acts looking to use the "Idol" audience as a springboard to increase success and sales, and the star power was way down. If you can get someone great to perform, fantastic. But if it's Travis Garland or Sons of Sylvia, I probably would rather have those five minutes of my life back.
Moreover, every guest performance just reinforced the gap between them and the amateurs who we were actually supposed to be voting for. Intellectually, we all get that none of the finalists turned down a brilliant recording opportunity to banter with Ryan and the judges, so it's no wonder that they aren't as good as the likes of Lady Gaga or the Black Eyed Peas. But they still don't look good in comparison.
Let's go back to the old days. If you're a former "Idol" participant, welcome back! If you're a mentor, or even someone who is willing to be filmed hanging out with the finalists and offering advice, I can see that integrating better. But if your claim to fame is that Kara DioGuardi discovered you? Pass (with all apologies to Jason Derulo).
A 'fans pick the song week'
I get why "American Idol" makes the singers pick songs of a particular theme, songbook or genre. It keeps the show from being disjointed, and theoretically helps it to flow better. And even if it means I have to watch people murder the Rolling Stones and the Beatles, I can understand the rationale.
But for one week next year, how about letting the fans pick the songs? Give us a bunch of choices Wednesday, and let us vote. If we want to hear Lee DeWyze tackle Springsteen, we should have that right. Or if we want to torture Tim Urban and make him sing Coolio's "Gangsta's Paradise," why not let us? Does the Geneva Convention prohibit that sort of thing?
Those are my thoughts. Hit me up on Twitter and let me know your brilliant ideas as well, so when Connick and Harris turn "Idol" down, I can look brilliant when I interview for Simon's job.
Craig Berman is a writer in Washington. Follow him on Twitter at twitter.com/craigberman.
Copyright MSNBC - MSNBC