A Donald Trump presidency will soon be reality for America. Supporters have hailed it as the chance for much needed government reform, and protesters in cities across the U.S. have already taken to the streets about their worries and fears.
What was once a joke response among some Hillary Clinton supporters to a disappointing election, moving to Canada or somewhere else, is being taken more seriously. The election results have sparked a debate among liberals on whether to leave the country or remain and fight for progressive causes.
In the early hours of Wednesday, searches for "move to Canada" peaked, relative to the last seven days, according to Google Trends. "Easiest countries to immigrate to" was a related search.
As the election returns were being counted, 200,000 people visited Canada's immigration website, with half being from U.S. IP addresses, a representative for the Canadian department of Immigration, Refugees and Citizenship told NBC in an email. And those figures don't account for users trying to access the site after it crashed.
"The volume for this time period is significantly higher than the same time the previous week, when the website saw just over 17,000 users," the representative said.
Raw: West Coast Protests After Trump Election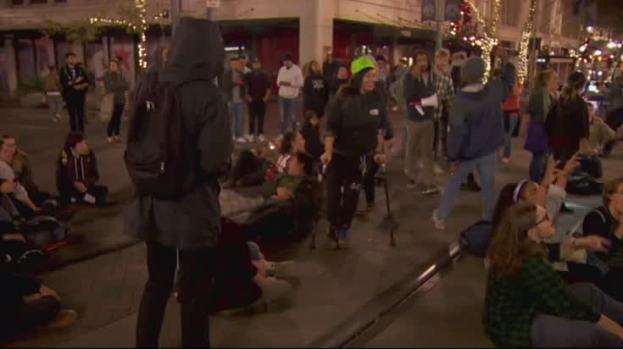 Searching for immigration information doesn't take very long, but actually moving to Canada would take a lot longer. The wait time to achieve permanent residency in the country could be months or years, according to immigration attorney David Clarke. He said Trump may not even be president by the time current U.S. citizens finally become Canadian citizens.
Celebrities took to Twitter on election night to sound off on the idea of an exodus.
Looking for a great realtor in Canada.

— Josh Gad (@joshgad) November 9, 2016
In other related news: Flights to Canada are really cheap

— Brittany Snow (@Brittanysnow) November 9, 2016
Currently considering moving back to Australia... well.. that or relocating to Canada. #ElectionNight

— Sharna Burgess (@SharnaBurgess) November 9, 2016
"Breaking Bad" star Bryan Cranston spoke on the topic in an October episode of "The Bestseller Experiment" podcast. "Absolutely, I would definitely move," he said.
However, others are arguing against fleeing, saying it is not what will keep America together.
"The social solution is to stay and put up a fight," wrote the writer and activist Norman Solomon, executive director of the Institute for Public Accuracy, a non-profit organization that helps spread "progressive perspectives" on social issues.
Solomon added that America needs a "united front ... to understand clearly and organize effectively against the Trump regime. Failure to put up a fight should be unthinkable."
Michael Krikorian, the author of the novel "Southside," wrote an op-ed in the Los Angeles Times titled "Don't move to Canada. Stay and fight."
WATCH: Clinton Gives Concession Speech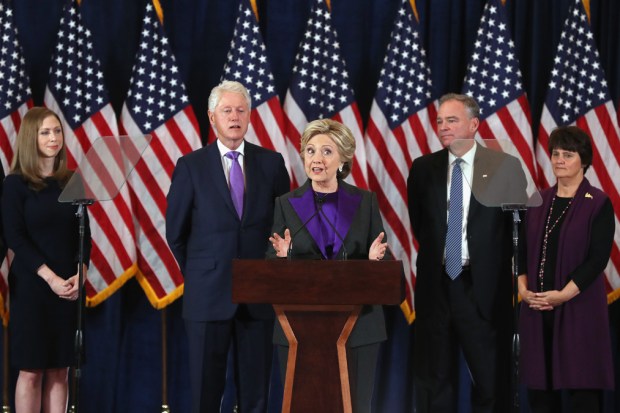 Filmmaker Michael Moore also urged people to stay and face the election results. In a Facebook post Wednesday that has since been shared more than 180,000 times, the prominent liberal wrote a "Morning After To-Do List" for the American people. First on the list: "Take over the Democratic Party and return it to the people."
"Any Democratic member of Congress who didn't wake up this morning ready to fight, resist and obstruct," Moore added, "must step out of the way and let those of us who know the score lead the way in stopping the meanness and the madness that's about to begin."
On Thursday, Moore posted a second to-do list, since shared more than 20,000 times. It included forming an opposition movement, as well as impeaching Trump. Moore and other protesters on the left are calling for action that is difficult and time-consuming, but it's clear that they are not backing down. The list concluded, "More to-do tomorrow."
Trump has pledged to serve as president for all Americans in a speech that President Barack Obama said left him feeling "heartened."
WATCH: Obama Welcomes Trump to the White House