What to Know
One student and one teacher died after the bus heading to a field trip in New Jersey collided with a dump truck Thursday on I-80 at exit 25

Multiple sources tell News 4, citing DOT video, that the bus driver missed the exit for the site of the class trip and attempted a U-turn

All other passengers on the bus were injured, some critically
Multiple sources tell NBC 4 New York that video from a Department of Transportation camera shows the school bus filled with fifth-graders in Thursday's deadly wreck in New Jersey making a sudden U-turn in a median.
The development comes as investigators probe the cause of the crash, which killed a 10-year-old student and a teacher after the full-size school bus collided with a dump truck on Route 80 near exit 25 in Mount Olive Township.
The bus, which was carrying 38 students and seven adults from East Brook Middle School in Paramus, was heading to a class field trip to Waterloo Village, a historic site in Stanhope. The student who was killed has not yet been identified. The teacher has been identified as Jennifer Williamson-Kennedy, whose husband issued a heartrending statement late Thursday. The rest of the people on board were injured, some critically.
Horrible School Bus Accident Leaves 2 Dead, Many Injured
There were three school buses taking students from the same school on the field trip, sources said. Of the three buses, one missed the exit, video shows. When the driver realized this, he apparently saw a designated U-turn area for emergency vehicles ahead -- and cut across lanes of traffic to try to make the U-turn.
A dump truck traveling in the same direction slammed into the bus as it suddenly appeared in front of him, the sources said, citing DOT footage. The investigation is still early and no conclusion has been reached.
The school bus driver is still being treated for injuries and has not yet been interviewed.
The injured were transported to six different hospitals and some were undergoing surgery. The crash was so severe some injured children climbed through windows and the roof's emergency exit to get to safety.
There is no federal requirement for seat belts on full-sized school buses, but six states, including New Jersey, require them.
NJ School Bus Seat Belt Law May Have Saved Lives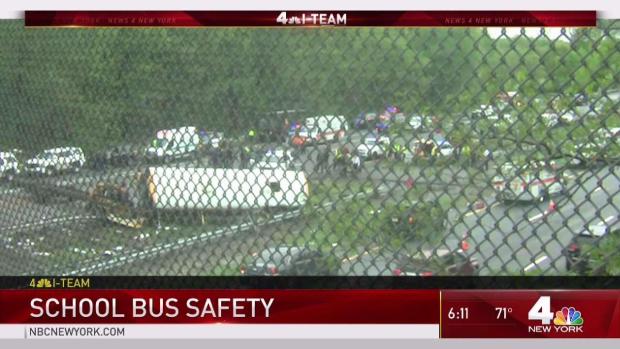 An 11-year-old boy sitting in the fourth row of the bus told News 4 New York, "I heard like a scraping noise and then the bus tilted over, and a lot of people were screaming."
Photos obtained by News 4 show the heavily damaged bus on its side in the median, surrounded by dozens of emergency and law enforcement vehicles. The front of it was barely recognizable, a mangled chunk of broken-apart machinery spread from the highway shoulder lane through the guardrail and into the grassy median, where police and first responders are seen tending to stunned children.
Student, Teacher Killed in Bus Crash During Field Trip in NJ
The undercarriage, the bus wheels still attached, lay perpendicular to the overturned bus, stretching out over multiple lanes of the highway.
Students on the other two buses taking part in the trip were told they had to leave 10 minutes after arriving because of a storm, and only learned of the accident when they arrived back at school. They were then reunited with their families.
All school trips for the rest of the year were canceled. School leaders decided not to cancel classes on Friday, saying the student body should be together to grieve.
Students at East Brook Middle School, a public school serving roughly 650 students in grades 5 through 8, were picked up early from school — they found out about the accident when other students were crying in the halls.
School Bus Crash Survivor Describes Crash
"We thought it was just a drill and people were joking around," student Alejandro Garcia said. "Stuff started coming in. We gathered around two students whose brothers were on that bus... It was just horrible what happened."
The news of the deadly bus crash caused a chaotic scene inside the school as frantic parents rushed in to pick up their children.
No additional details on the children or any injuries were available.
Parents and Students in Shock After Fatal NJ Bus Crash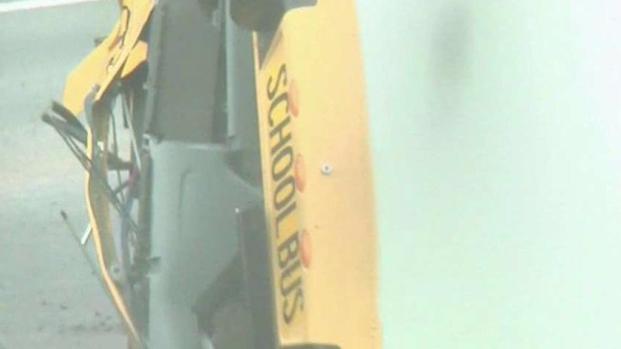 A man at the front desk of a company connected to a license plate on the dump truck said it's not clear what happened, but he did confirm the driver left the facility Thursday morning and got into the accident. It's not clear if that driver was injured.
A team with the New Jersey Department of Health also responded.
The area of exit 25 on Route 80 where the crash happened was closed for the majority of the day. It wasn't until just before 9 p.m. when all lanes had reopened as cleanup crews loaded the mangled bus onto a flat-bed truck.
Serious accidents are not uncommon in that stretch of the busy highway. From 2014-2016 there were more than 5,000 crashes on Route 80 in Morris County, resulting in 10 deaths and nearly 1,400 injuries, according to a News 4 I-Team analysis of state data.
Classmates Grieve After Horrific School Bus Crash in NJ