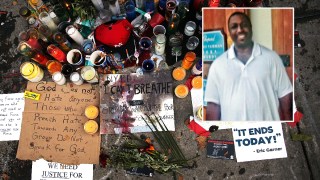 Eric Garner's mother said she was "totally, totally outraged" over a report that the NYPD officer who put her son in a chokehold before his death in 2014 made nearly $120,000 in the last fiscal year.
Gwen Carr joined U.S. Rep. Hakeem Jeffries and the mother of Ramarley Graham outside One Police Plaza in lower Manhattan Wednesday to lambaste the 20 percent increase in pay that Daniel Pantaleo reportedly received in the two years since Garner's death on July 17, 2014.
Pantaleo was stripped of his badge and gun after Garner's death and has been serving on modified duty for more than two years. He faces departmental charges but not criminal charges for Garner's death, which sparked protests across the country.
"If it was not a police officer, this wouldn't be happening," an incensed Carr said. "If the shoe was on the other foot, if it was me -- with this outrage -- I would have lost my job. i would have gone to jail."
Politico New York reports that Pantaleo made $119,996 in the 2016 fiscal year, which ended on June 30. That represents a $20,000 jump from the year before Garner's death, when his gross earnings were $99,915. In the year between, Politico found that he made $105,061.
"That gives them the incentive to keep doing what they're doing to our children," Carr said. "We want this to stop. We will no longer take this."
The NYPD's incoming top cop, current Chief of Department Jimmy O'Neill, has ordered a review of pay for officers on modified duty, according to a department statement that comes after the pay of Pantaleo and other cops facing discipline was revealed.
The mayor's office has said it supports the new inquiry and added Wednesday that the city's investigation into the handling of Garner's death is almost complete, pending an additional review by federal authorities. A Staten Island grand jury declined to press charges in the case.
Jefferies said Wednesday that "we are still waiting for Pantaleo to be held responsible.
The NYPD's rank-and-file union said in a statement to the Daily News that there's "no justification to prevent police officers on modified duty from working overtime when the department requires."
The Mayor's office