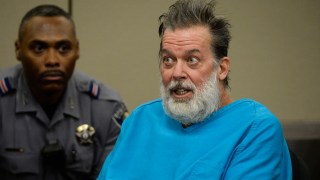 Weeks after he admitted killing three people at a Colorado Planned Parenthood clinic, Robert Lewis Dear told a judge he wants to fire his court-appointed attorneys and continue on his own, NBC News reported.
"I do not want them as my lawyers. I reserve my constitutional right to defend myself," Dear said in a Colorado Springs court appearance Wednesday.
Dear, 57, is charged with multiple counts of murder and attempted murder for a daylong siege on November 27, 2015, in which a police officer and two civilians were killed.
In his first court appearance on December 9, Dear railed against his public defenders, accusing them of being in league with Planned Parenthood. He also declared that he was guilty, calling himself a "warrior for the babies."
Get More at NBC News