A citywide curfew took effect Tuesday evening in Baltimore as thousands of state, local, and federal law enforcement officers blanketed the city and quelled the scattered outbreaks of resistance that flared in city pockets.
"We don't have a lot of activity around the city, so the curfew is, in fact, working," Police Commissioner Anthony Blatts told a news conference shortly before midnight Tuesday evening.
Ten arrests had been reported following the 10 p.m. curfew, most of them for simple curfew violations, Blatts said. Two people were arrested for looting and one for disorderly conduct.
"Citizens are safe," Blatts said. "The city is stable. We hope to maintain it that way."
Earlier in the evening, a line of police behind riot shields hurled smoke grenades and fired pepper balls at dozens of protesters to enforce a citywide 10 p.m.-to-5 a.m. ET emergency curfew.
Demonstrators threw bottles at police, and picked up the smoke grenades and hurled them back at officers.
The clash came after a day of high tension but relative peace in Baltimore, as thousands of police officers and National Guardsmen poured into the city to prevent another round of rioting like the one that rocked the city on Monday.
As the curfew fell, some people were still on the streets of Baltimore. Police in riot gear started to move toward the crowd and a helicopter was broadcasting a message telling all non-media to go home. "You must go home. You cannot remain here. You will be subject to arrest," the message said.
Protesters could be seen climbing on top of a overhang at a Metro station, holding signs. One read, "Freddie didn't die in vain."
Police said they had patrolled the streets earlier in the evening, using their cruisers' loudspeakers to announce the curfew and using the city's reverse 911 system to make sure citizens knew of the curfew.
"If you are coming home from work, or to work -- if there is a medical emergency and you are en route to seek treatment, obviously those officers will have discretion," said Baltimore Police Capt. Eric Kowalczyk at a 9:30 p.m. briefing. "This is about is preserving the public peace. So if we find someone out in violation of the curfew ... they will be arrested."
Kowalczyk also said an officer in the Southern District has been attacked and injured "by a group." However, he added, it was not clear how -- or if -- that was connected to protests.
Tuesday had been an uneasy day of calm after riots erupted in the city on Monday, following the funeral for Freddie Gray, a black man who died in police custody.
Maryland Gov. Larry Hogan said 2,000 Guardsmen and 1,000 law officers would be in place overnight to try to head off a repeat of the racially charged violence that erupted Monday in some of the city's poorest neighborhoods.
"We're not going to have another repeat of what happened last night," Hogan vowed after a visit to a West Baltimore neighborhood where cars were burned and windows smashed. "We're going to make sure we get Baltimore back on track."
Baltimore city police arrested 235 people during Monday night's unrest, Police Capt. Eric Kowalczyk said during a press conference Tuesday afternoon. Of those arrested, 34 were juveniles; 201 were adults. At least 20 officers were injured in the clashes, and 144 vehicle fires were reported, Kowalczyk said. At least 19 structure fires were reported, said Maryland Gov. Larry Hogan.
More than a dozen police officers were hurt. Tuesday evening, Baltimore Police Commissioner Anthony Batts said all of the hurt officers had been treated and released from local hospitals.
Large crowds gathering Tuesday afternoon demonstrated mostly calmly, although one group physically blocked an armored truck from moving down the street to escort an ambulance. Sometimes they sang and danced.
Baltimore Mayor Stephanie Rawlings-Blake said Tuesday the cleanup and the calm showed the real spirit of Charm City after the violence that left residents shaken, angry and afraid.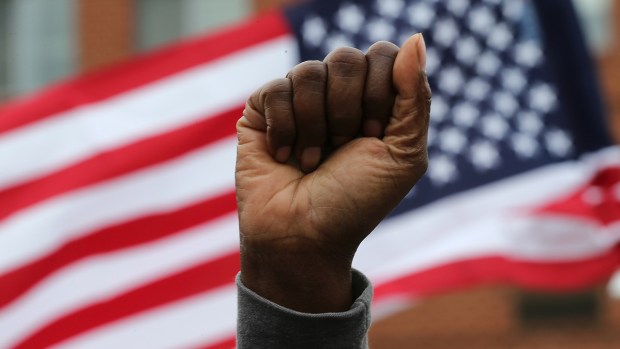 Protests in Baltimore Over Death of Freddie Gray
"This can be our defining moment, not the darkest day we saw yesterday," she said at an afternoon press conference.
"There's a lot of good going on in the city, too," Hogan said in an afternoon press conference.
Still, authorities remain on edge about the possibility of another outbreak of looting and arson.
The city is under a 10 p.m.-to-5 a.m. curfew through Wednesday. All public schools were closed Tuesday, though they will reopen Wednesday.
The Baltimore Orioles postponed their Tuesday night game at Camden Yards. The Baltimore Ravens announced they've already canceled a draft party planned for Thursday night.
Meanwhile, National Guardsmen in helmets with face shields surrounded City Hall, standing behind bicycle-rack barriers.
It was the first time the National Guard was called out to quell unrest in Baltimore since 1968, when some of the same neighborhoods burned for days after the assassination of the Rev. Martin Luther King Jr.
More than 300 law enforcement officers have arrived from Pennsylvania, 150 from New Jersey, and 45 from the District of Columbia, Hogan said.
At the White House, President Barack Obama called the deaths of several black men at the hands of police "a slow rolling crisis." But he added that there was "no excuse" for the violence in Baltimore, and said the looters were stealing, not protesting, and should be treated as criminals.
As firefighters doused smoldering fires Tuesday, many lamented the damage done by the rioters to their own neighborhoods.
"We saw a group of people take advantage of a very unfortunate situation to tear down their neighborhoods — to damage the businesses in their own communities," Kowalczyk said Tuesday.
Hundreds of volunteers helped shopkeepers clean up as helmeted officers blocked a stretch of North Avenue in the neighborhood where Gray, 25, was arrested earlier in this month in a case that has become the latest flashpoint in the national debate over the police use of deadly force against black men.
Hardware stores donated trash bags and brooms, and city workers brought in trucks to haul away mounds of trash and broken glass.
With schools closed, Blanca Tapahuasco brought her three sons, ages 2 to 8, from another part of the city to help sweep the brick-and-pavement courtyard outside a looted CVS pharmacy.
"We're helping the neighborhood build back up," she said. "This is an encouragement to them to know the rest of the city is not just looking on and wondering what to do."
CVS store manager Haywood McMorris said the destruction didn't make sense: "We work here, man. This is where we stand, and this is where people actually make a living."
The rioting started in West Baltimore on Monday afternoon -- within a mile of where Gray was arrested — and by midnight had spread to East Baltimore and neighborhoods close to downtown and near the baseball stadium.
"It was at first a "high school" event," Baltimore Police Capt. Kowalczyk said at Tuesday afternoon's press conference, on why police didn't step up a stronger response earlier. "I don't think there's anybody in the country that would expect us to deploy automatic weapons and armored vehicles for a bunch of 13-, 14- and 15-year-olds."
The rioters set police cars and buildings on fire, looted a mall and liquor stores, and hurled rocks, bottles and cinderblocks at police in riot gear. Police responded occasionally with pepper spray or cleared the streets by moving in tight formation, shoulder to shoulder.
"They just outnumbered us and outflanked us," Baltimore Police Commissioner Anthony Batts said. "We needed to have more resources out there."
The governor had no immediate estimate of the damage.
The rioting was the worst such violence in the U.S. since the turbulent protests that broke out over the death of Michael Brown, the unarmed black 18-year-old who was shot by a white police officer in Ferguson, Missouri, last summer.
"I understand anger, but what we're seeing isn't anger," Baltimore Mayor Stephanie Rawlings-Blake lamented. "It's disruption of a community. The same community they say they care about, they're destroying. You can't have it both ways."
State and local authorities found themselves responding to questions about whether their initial response had been adequate.
Rawlings-Blake waited hours to ask the governor to declare a state of emergency, and the governor hinted she should have come to him earlier.
"We were all in the command center in the second floor of the state House in constant communication, and we were trying to get in touch with the mayor for quite some time," Hogan said at a Monday evening news conference. "She finally made that call, and we immediately took action."
Asked if the mayor should have called for help sooner, however, Hogan replied that he didn't want to question what Baltimore officials were doing: "They're all under tremendous stress. We're all on one team."
Rawlings-Blake said officials initially thought they had gotten the unrest under control.
Maryland National Guard spokesman Lt. Charles Kohler said that about 2,000 members would be deployed through the day and that the force could build to 5,000.
"We are going to be out in massive force, and that just means basically that we are going to be patrolling the streets and out to ensure that we are protecting property," said Maj. Gen. Linda Singh, adjutant general of the Maryland National Guard.
Also, State Police said they were putting out a call for up to 500 additional law enforcement officers from Maryland and as many as 5,000 from around the mid-Atlantic region.
Attorney General Loretta Lynch, in her first day on the job Monday, said she will send Justice Department officials to the city in the coming days. And the governor said he is temporarily moving his office from Annapolis to Baltimore.
Gray was arrested April 12 after running away at the sight of police, authorities said. He was held down, handcuffed and loaded into a police van. Leg cuffs were put on him when he became irate inside. He died of a spinal cord injury a week later.
Authorities said they are still investigating how and when he suffered the injury — during the arrest or while he was in the van, where authorities say he was riding without being belted in, a violation of department policy. Six officers have been suspended with pay while the investigation continues.
While they are angry about what happened to Gray, his family said riots are not the answer.
"I think the violence is wrong," Gray's twin sister, Fredericka Gray, said late Monday. "I don't like it at all."
In 1968, when Baltimore and many other U.S. cities erupted in flames over the assassination of King, the state of Maryland called up 6,000 Guardsmen to restore order in the city, and 2,000 active-duty federal troops were sent in, too.
Standing in front of the burned-out CVS drugstore Tuesday, the mayor lamented that the neighborhood was still recovering from the riots of the 1960s.
"We worked so hard to get a company like CVS to invest in this neighborhood," she said. "This is the only place that so many people have to pick up their prescriptions."