A teen from the south Chicago suburb of Robbins told police he tried to wrestle a gun away from his step-father after the man shot and killed the teen's mother, sister and brother late Sunday night.
Police were called to the home on the 13600 block of South Pulaski Road shortly before 11 p.m. after receiving a report of shots fired, authorities said.
Four bodies were discovered inside the home. Three had gunshot wounds, police said. Michele Ollie, 42, and Trisdion Worsham, 15, were pronounced dead on the scene. Steven Worsham, 17, was transported to Metro South Hospital and was later reported dead.
The suspected gunman, 43-year-old Michael Worsham, was also transported to Metro South Hospital where he was pronounced dead of a suspected heart attack, but an autopsy has not been performed.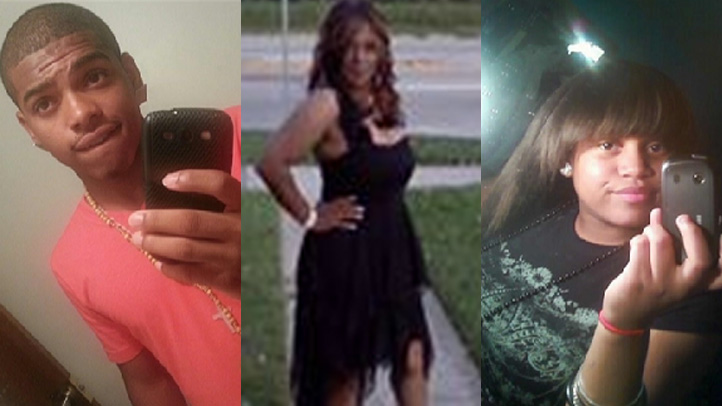 Police say Michael Worsham first shot his 17-year-old son Steven in the kitchen and then pulled his wife out of bed and shot her.
Michael Worsham's stepson said he was in the home when his stepfather began firing. He said he tried to wrestle the gun away, but Worsham told him he could go if he stopped fighting. The teen said he then grabbed his 5-year-old nephew, alerted his sister and ran out the door.
But police say Trisdion was shot in the back by her father as she tried to flee.
"The offender dragged the young girl back in the house and he went upstairs here his body was later found dead," Dart said.
"Our prayers go out to everyone," said Robbins Police Chief Mitchell Davis. "That 14-year-old is a hero. He saved his own life and he saved the life of his 5-year-old nephew. I want to make it clear to the citizens of Robbins that this is a domestic incident. This was an isolated incident."
A cousin of the suspected gunman, Toni Gardner, says she spent time with him on Sunday and can't imagine what made him snap.
"I don't know what went wrong ... I truly don't," Gardner said. "However you portray this ... he was not a monster."
Steven was a student at Shepard High School in Palos Heights.
"Our staff is grieving ... our students are grieving," principal Josh Barron said.
Officials from the Department of Children and Family Services said they have no record of any contact with the family members. The 14-year-old on Monday morning was with an aunt. The 5-year-old was back with his mother.
Officials said the suspected gunman was a security guard and had a valid Firearm Owners Identification Card.
Police reported no previous domestic issues at the home.
A vigil was held outside the home Monday night.