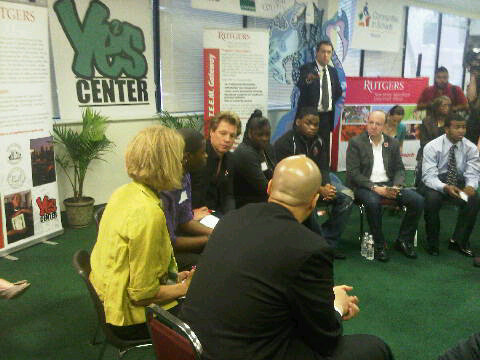 New Jersey superstar rocker Jon Bon Jovi was in Newark Monday, not to perform, but to listen to a dozen or so youth who know all too well the streets of New Jersey's largest city.
Bon Jovi, who was joined by Newark Mayor Cory Booker, was on a listening tour with two other members of the White House Council for Community Solutions as they seek ways to help young people finish their education and then find work.
"They're looking for mentors, they're looking for a second chance," Bon Jovi said after meeting with the group in downtown Newark's Yes Center.
Fellow Council member Michael Kempner, a New Jersey businessman, added, "They need life skills, soft skills (like) how do you interview for a job, how do you keep a job."
"Kids, they screaming for help," Robert Barr, 23, said after participating in the session, and then added "When you come from broken homes it's like a toss-up."
Bon Jovi seemed well received by the group, including Tashon Little, 18, who will be attending Winston-Salem State University this fall.
"He has an opportunity to reach out to the world and let them know the problems of the inner cities," said Little, adding "I think he will do something about it."
Bon Jovi and Mayor Booker agreed that more government money is not necessarily the answer.
Booker noted there is a lot of philanthropic money available.
"And the great thing about philanthropy now is it's smart money," Booker said while explaining "There are venture philanthropists that want to invest in the high impact organizations."
The most obvious of those is the $100 million that Facebook founder Mark Zuckerberg recently pledged to Newark for reform of its schools at the urging of Mayor Booker.
As for Bon Jovi, the White House Council he is a part of still has a year and a half to issue a final report.
But he made it clear he expects it to do more than end up gathering dust on a shelf somewhere.
"I really feel at 50 years old I should do other things than sing in a rock and roll band," Bon Jovi said and then added, "I take great pride out of seeing change."
Follow Brian Thompson on Twitter @brian4NY,