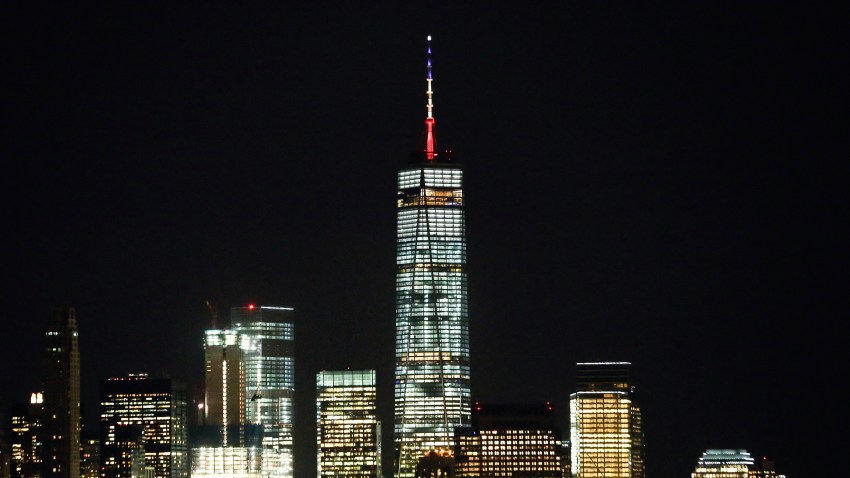 The plan to illuminate Manhattan's One World Trade Center in Belgian colors to show support for the nation reeling from terrorist attacks caused unexpected controversy Tuesday when the 408-foot spire atop the tallest building in the U.S. appeared to display the incorrect hues.
"Tonight, One World Trade Center will be displayed in black, yellow and red as we stand in solemn solidarity with the people of Belgium, just as they have done for us in the past," Gov. Andrew Cuomo said in a statement before the lighting Tuesday.
But the spire appeared to be lit in red, white and blue when it was first illuminated. A Port Authority spokesman said the spire was initially lit at 10 percent white, which was supposed to darken the spire enough to appear black.
After dusk, the lighting was further darkened so the Belgian colors of black, yellow and red were clearly visible, the spokesman said.
Still, some people took to social media to lambaste the apparently incorrect colors. Others, apparently unaware of Belgium's national colors, tweeted photos of the tribute but didn't mention the odd hues of the spire.
After the spire was darkened, Cuomo tweeted a photo of the spire showing the Belgian colors.
But some weren't convinced.
An aide to Mayor Bill de Blasio, who has feuded publicly with Cuomo a number of times since taking office, accused the governor of doctoring the photo to show the correct colors in a since-deleted tweet.
"Ah, guys, this photo is pretty clearly doctored. #ethics," Rob Bennett tweeted.
A Cuomo spokesperson refused to comment when asked about Bennett's tweet.
A spokeswoman for the mayor's office said that Bennett's tweet was not sanctioned and the city and state are in solidarity in mourning the attacks.
The Durst Organization, which manages the spire, also did not immediately respond to a request for comment.
Other city landmarks also paid tribute to Belgium. The Empire State Building went dark Tuesday night, while City Hall illuminated two-thirds of its facade in yellow and red.
The Eiffel Tower, Berlin's Brandenburg Gate and the Burj Khalifa in Dubai were among other landmarks around the world that also displayed Belgium's colors.
[NATL] Global Landmarks Light Up After Brussels Attack