A woman was able to fight off a man who came up behind her and tried to pull down her pants last week in Manhattan, police say.
The NYPD says a 40-something-year-old man wearing a hoodie came up from behind the woman in Hell's Kitchen on Sept. 1 just after 4 a.m. and covered her mouth with his hand in an attempt to stop her from screaming.
The man then tried to pull down the victim's pants, but she was able to fight the man off and scream out for help, police said.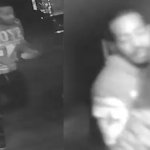 The yell apparently frightened the man who then ran away from the area last seen heading west on 51st Street.
Police on Friday morning released surveillance footage of the man in the hopes of catching him before he strikes again.
Officials urge witnesses to call NYPD Crime Stoppers with tips that could lead to the suspect's arrest.
[NATL] Famous Mug Shots: Sam Hunt