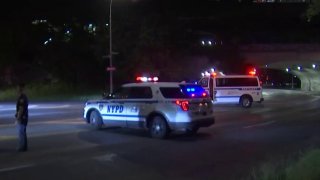 A woman who was out walking her two dogs in the Bronx was struck by a hit-and-run driver, and one of the dogs has now died, police said in an update on Wednesday.
The victim was near the corner of Grand Concourse and Mosholu Parkway in Kingsbridge the night before when an Audi slammed into her as she strolled with her pups, police said. The woman suffered a forehead contusion and will be OK, cops said.
Both dogs were taken to the vet in critical condition. One later died, though the other is expected to survive.
After initially saying the driver fled the scene, cops said Wednesday the driver remained at the location and has not been charged.
No other details were immediately available.
Copyright NBC New York