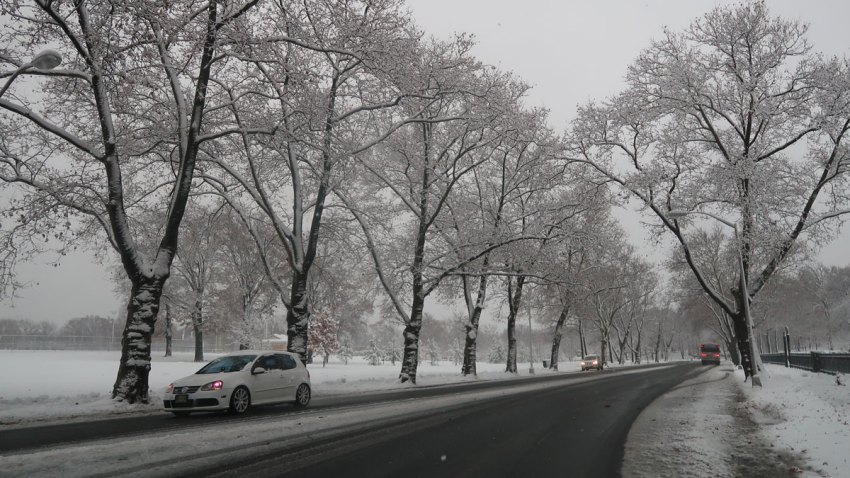 What to Know
The heavy snow storm brought down power lines and left thousands of customers in New Jersey without power Tuesday
Jersey Central Power and Light reported that 37,000 homes and businesses were without electricity Tuesday evening
Some of the power companies said that electricity may not even be restored for everyone until Thursday
While the storm covered everything in white for a large portion of New York and New Jersey, the aftermath has left many seeing nothing but darkness.
Jersey Central Power and Light reported that 21,000 homes and businesses were still without electricity Wednesday morning. They are mainly in Sussex, Morris and Warren counties. Another roughly 15,000 more customers served by other utilities and solar power groups also had no service.
Some of the power companies said that electricity may not even be restored for everyone until Thursday evening— which means another day in the dark for some families.
As much as nine inches of snow fell in parts of northern New Jersey in the first severe winter storm of the season. Most of the outages were due to downed trees and power lines that were grounded as a result of freezing conditions paired with strong winds. At the worst point, more than 37,000 customers had no electricity.
Temperatures dip below freezing overnight, but there may be some more snow and ice melting Wednesday during the day. Most of the area can expect mid 40s and sunny skies.
For anyone fearing this could be an early start to a long winter season in terms of snowfall, there is some good news (at least in the near-term). The rest of the week looks to be sunny and clear with temperatures in the low 40s.
There may be some precipitation to start next week, but as of now Storm Team 4 predicts it will be mild rain showers, as temperatures will remain well above freezing.
Not only were thousands of customers without power in New Jersey as of Tuesday afternoon, residents experienced other headaches related to the storm. In nearby West Milford, a 73-year-old man was left trapped in his upstairs apartment after a fallen tree blocked the outside stairs, the only way out of the home.
Rockland, Westchester and other counties in Connecticut and up into the Hudson Valley saw significant snow, where some spots locally got more than a foot, compared to New York City which dodged accumulation.
Click here to check the latest weather alerts in your area.
Around the city, a little more than an inch fell in Central Park, and anything more that may have fallen quickly turned into slush that made for slippery sidewalks.
Flight delays and cancellations went into the hundreds and thousands across the country, with airports in the New York and Boston areas accounted for many of them.
Near Albany, a bus carrying about 30 people collided with a tractor trailer on a highway during the storm. Gov. Cuomo says there were some injuries in the 7 p.m. crash that closed all lanes of the highway near the Massachusetts border, but they don't appear to be life-threatening.
The Associated Press contributed to this report.
Copyright A