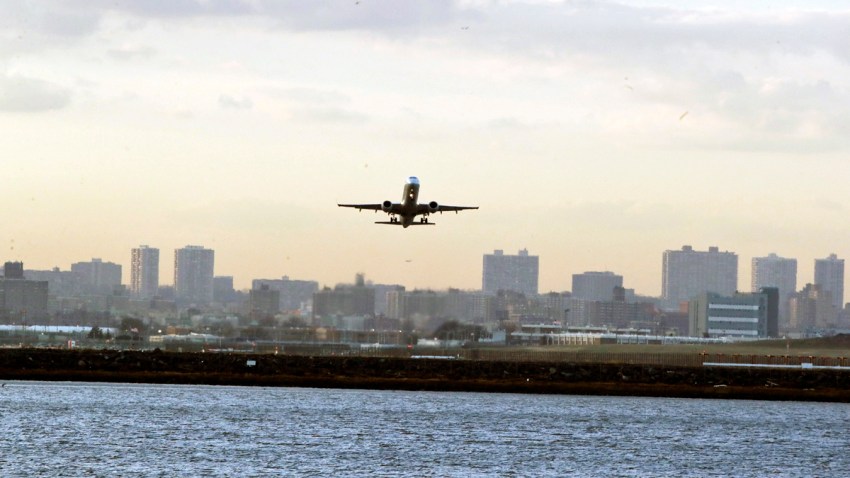 What to Know
A snow alert was issued for New York City through Monday and a travel advisory is in place, urging people to take mass transit
Hundreds of flights were canceled or delayed on Sunday, and those delays pushed into Monday
Many at New York region airports were still trying to get home Monday afternoon
After plaguing travelers from coast to coast over the holiday weekend, storms continued to ground flights on Monday — with tri-state airports getting hit hard.
More than 1,000 flights at Newark, LaGuardia and JFK airports were delayed on Monday due to the winter storm that dumped inches of snow all over the region. There were also more than 300 flights canceled at those airports, leaving scores of passengers struggling to find other ways of getting home as the first major snowfall of the season continued coming down into Monday night.
Monday's delays and cancellations come after more of the same on Sunday, when hundreds more flights were impacted by the storm during one of the busiest holiday travel days of the year.
Zachary Ghan was at LaGuardia Monday morning trying to get back to Toronto after his flight was canceled Sunday. He calculated that by the time he arrived home his journey home will have taken 30 hours, door-to-door.
While some travelers at airports settled in for extended delays, homeowners started taking precautions on the ground.
A snow alert was issued for New York City through Monday and a travel advisory is in place, urging people to take mass transit. Alternate side street parking was suspended for Monday.
"We've got our shovels ready. We've got the snowblower ready. We're prepared," said Paul Newman, of Wethersfield, Connecticut.
Schools closed preemptively as rain was expected to turn into snow in the region's first significant storm of the season, a nor'easter so named because the winds typically come from the northeast. NYC Mayor Bill de Blasio said, as of Monday evening, city schools will likely be open on Tuesday, though no word on possible delayed openings.
Inland areas appeared to be in for the biggest snowfall, with the forecast in Albany, New York, predicting 6 to 14 inches. Closer to the heavily populated, coastal Interstate 95 corridor, a wintry mix was more likely.
Only 3 inches of snow was forecast for New York City and 5 inches for Philadelphia. Up to 9 inches, though, was possible in Boston by Tuesday night.
New York Gov. Andrew Cuomo told nonessential state employees to stay home Monday, and New Jersey Gov. Phil Murphy decided to close government offices for nonessential employees at noon.
Tractor-trailers were banned or lower speed limits put in place on stretches of highway in New Jersey and Pennsylvania. New York also posted lower speed limits on some highways.
Many buses from New York City to Pennsylvania and upstate destinations such as Ithaca and Binghamton were canceled.
In Sullivan County, New York, MOVE Sullivan buses will stopped running at 3 p.m. instead of the previously determined time of 5 p.m. due to the deteriorating weather conditions, according to a county spokesperson.
Dozens of school districts in upstate New York were closed Monday, along with several State University of New York campuses and other colleges.
The storm will have staying power, too. Storm Team 4 says snowfall could hang around until Tuesday morning.
Bags of salt, boxes of shovels and scrapers were popular purchases for people finding themselves in need of winter supplies.
"No snow tires on the car. No salt in the garage. So... had to run out and make a trip to Home Depot," said one shopper.
"When I came [to Home Depot] this morning they had the big buckets of salt all right," said Vernon Sumpter, a Greenburgh resident. "I bought four of them myself."
Copyright A