What to Know
A 268-pound elephant was born at the Rosamond Gifford Zoo in Syracuse
The Asian elephant was 3 feet tall when he was born on Jan. 15. He has already gained 12 pounds
Asian elephants are critically endangered in the wild
A New York zoo has a big new addition to celebrate: a 268-pound baby elephant.
The baby boy was born Jan. 15 and was 3 feet tall, the Rosamond Gifford Zoo in Syracuse said. Since then, he has already gained another 12 pounds.
The Asian elephant calf is the second offspring of mother Mali and father Doc, who are both 21. The baby's brother, Mali, turns 4 in May.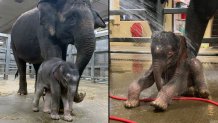 Mali was pregnant for 660 days, the zoo said. When she went into active labor, the baby was born in less than a half hour.
To prepare for the birth, zoo workers held drills using a life-sized inflatable elephant and a buoy for the baby, zoo director Ted Fox said.
"Mother and baby are both doing fine," Fox said. "We will monitor them closely while giving Mali and her newborn time to bond."
The youngster should be available to see at the zoo in the spring. Until then, the zoo will be posting updates on social media.
With this little one, Rosamond Gifford now has eight elephants, including the baby's grandmother, 35-year-old Targa.
"Asian elephants are critically endangered in the wild, so it's a huge accomplishment to be able to breed them in human care," Onondaga County Executive Ryan McMahon said.
Only about 30,000 Asian elements remain in the wild, the zoo said.
April the Giraffe Kisses New Baby and More Photos
Top Tri-State News Photos