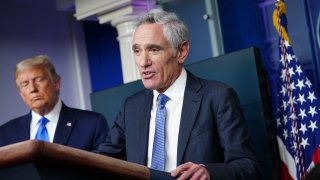 The head of the Center for Disease Control and Prevention suggested in a conversation Friday that one the latest addition's to the White House Coronavirus Task Force is arming President Donald Trump with misleading data about a range of issues, including questioning the efficacy of masks, whether young people are susceptible to the virus and the potential benefits of herd immunity.
Here's what we know of Dr. Scott Atlas, who joined the president's task force back in August:
Before he joined the task force, Atlas was a frequent guest on Fox News, where he pushed to reopen the country and espoused views that more closely align with Trump's opinions during the health crisis.
An academic, Atlas is the Robert Wesson Senior Fellow at Stanford University's Hoover Institution and a neuroradiologist and health-care policy expert.
Atlas graduated from the University of Illinois with a BS in biology and later went on to receive an MD degree from the University of Chicago School of Medicine.
Between 1998 and 2012, Atlas was employed at as a professor and Chief of Neuroradiology at Stanford University Medical Center.
Rudy Giuliani and Mitt Romney secured Atlas as a top advisor for health care on their previous presidential campaigns.
Since his addition to the task force, Atlas has become the medical expert who spends the most time with the president, and his profile has been elevated in recent weeks by his appearing in the White House briefing room when Trump speaks with reporters.
Atlas has denied advocating the benefits of herd immunity after telling Fox News in July, "These people getting the infection is not really a problem, and in fact, as we said months ago, when you isolate everyone, including all the healthy people, you're prolonging the problem because you're preventing population immunity. Low-risk groups getting the infection is not a problem. In fact, it's a positive."
In early September, a collective of 98 immunologists, epidemiologists and infectious diseases physicians signed a letter calling attention to "the falsehoods and misrepresentations of science recently fostered by Dr. Scott Atlas."