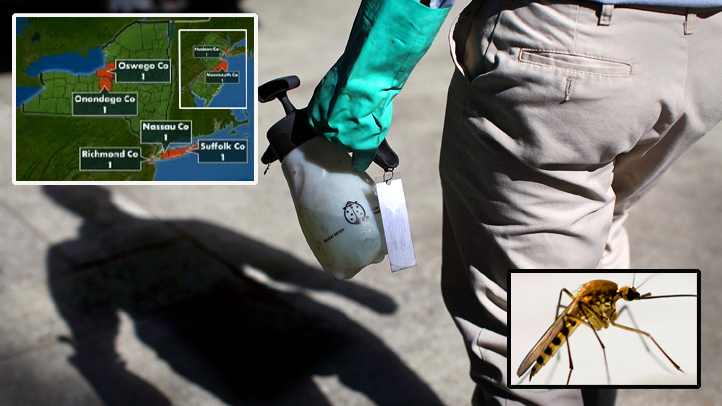 Several neighborhoods in Brooklyn are scheduled to be sprayed with pesticide over the next two days as concerns grow over what's being described as one of the largest-ever national outbreaks of West Nile -- one that has already infected victims on Long Island, in the city and upstate.

Health officials say there is increased West Nile virus activity, along with high or increasing mosquito populations, in the Brooklyn neighborhoods targeted for spraying, which include Canarsie, East Flatbush, Flatlands, Georgetown, Marine Park, Mills Basin, Mills Island, Spring Creek, Starrett City and Georgetown. The spraying is expected to begin at 8 p.m. Thursday and last through 6 a.m. Friday. Residents are advised to stay indoors during spraying.

Click here for info on the planned spraying.

On Wednesday, officials announced an elderly woman on Long Island became Nassau County's first confirmed case of the virus in a human this year.
The woman, who Nassau County Health Department officials described as over 70 and a resident of the town of Oyster Bay, became sick July 27, was hospitalized and is now recovering.
Spraying is also planned Thursday for Fire Island and Oak Beach in Suffolk County, which has already reported West Nile this year.

The Centers for Disease Control said Wednesday that so far there have been five confirmed cases of West Nile in New York state -- on Staten Island, Long Island and in Oswego and Onondaga counties upstate. There have been two cases each in New Jersey and Connecticut.
A county-by-county breakdown can be found here.
U.S. health officials reported three times the usual number of West Nile cases for this time of year and one expert called it "one of the largest" outbreaks since the virus appeared in this country in 1999.

So far, 1,118 illnesses have been reported, about half of them in Texas, according to the Centers for Disease Control and Prevention. In an average year, fewer than 300 cases are reported by mid-August. There have also been 41 deaths this year.

"We're in the midst of one of the largest West Nile outbreaks ever seen in the United States," said Dr. Lyle Petersen, a CDC official.

Never before have so many illnesses been reported this early, said Petersen, who oversees the CDC's mosquito-borne illness programs.

Most infections are usually reported in August and September, so it's too early to say how bad this year will end up, CDC officials said.

They think the mild winter, early spring and very hot summer have fostered breeding of mosquitoes that pick up the virus from birds they bite and then spread it to people.

West Nile virus was first reported in the U.S. in 1999 in New York, and gradually spread across the country over the years. It peaked in 2002 and 2003, when severe illnesses reached nearly 3,000 and deaths surpassed 260. Last year was mild with fewer than 700 cases.

Only about one in five infected people get sick. One in 150 infected people will develop severe symptoms including neck stiffness, disorientation, coma and paralysis.

In recent years, cases have been scattered across the country. Hot spots are usually in southeast Louisiana, central and southern California, and areas around Dallas, Houston, Chicago and Phoenix.

Those areas seem to have a combination of factors that include the right kinds of virus-carrying mosquitoes and birds, along with large numbers of people who can be infected, health officials say.

The best way to prevent West Nile disease is to avoid mosquito bites. Insect repellents, screens on doors and windows and wearing long sleeves and pants are some of the recommended strategies. Also, empty standing water from buckets, kiddie pools and other places to discourage breeding.
Get the latest from NBC 4 New York anytime: iPhone/iPad App | SMS Alerts | Twitter | Facebook | Google+ | Instagram | RSS
Copyright AP - Associated Press