What to Know
Scattered showers and thunderstorms developed Tuesday eveningwith some severe cells bringing heavy rain and wind
Storm activity is expected to move out by midnight, Storm Team 4 says; expect highs in the mid-to-upper 80s for much of the week
Right now, the Fourth of July looks to stay dry, hot and humid; conditions turn more unsettled to close out the work week
Scattered thunderstorms and showers — including a few cells that brought severe weather to parts of New Jersey — made their way through the region on Tuesday, reportedly bringing down trees and wires.
A severe thunderstorm warning was issued for Monmouth County at 6 p.m. and for Hunterdon, Middlesex and Somerset counties just after 7 p.m. Multiple reports of damage came out of Monmouth County, with reports of downed trees and wires out of Shrewsbury, as well as a tree reportedly splitting and falling on a car in Eatontown.
Ocean County was later issued a severe thunderstorm warning as well at 8 p.m. Strong winds and hail were possible.
The National Weather Service's Storm Predict Center had shifted the severe weather risk area closer to New York City mid-morning on Tuesday, meaning a greater chance of large hail, downpours and raging wind gusts for the tri-state area. The risk was still relatively low compared with the risk the region has seen on other days over the last few weeks, but Storm Team 4 urged everyone to take precautions.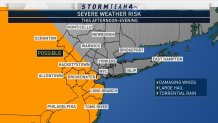 Most of the day stayed dry and sticky, with temperatures peaking in the mid-to-upper 80s as humidity rose. The storms fired up in the evening ahead of a weak cold front, and the threat of showers and thunderstorms remains through the night, mainly for western and southern sections of the region as the cold front approaches.

For the most part, high pressure should keep conditions relatively dry and fairly humid through the middle of the week, but an isolated thunderstorm can't be ruled out Wednesday afternoon. Expect dry, warm and humid weather for the Fourth of July with temps in the upper 80s, then conditions turn unsettled as we approach the weekend, as some rain or thunderstorms could move in Friday afternoon or night.

Track the rain with our interactive radar below.