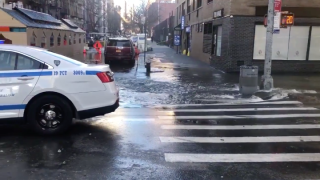 Water filled the streets and sidewalks of the Upper East Side when a water main ruptured Saturday morning.
Officials with the FDNY confirmed a break near East 75th Street and 2nd Avenue around 8 a.m.
No evacuations were ordered, the fire department said, but some 350 households and 17 businesses were without water after crews turned off the water to fix the 12-inch main.
The NYC Department of Environmental Protection confirmed the water in the neighborhood was safe to drink while repairs were being made.
Police and city officials were observed blocking off the roads immediately impacted by the flooding waters.
Repair efforts could be further complicated by the city's below-freezing temperatures. Highs are expected to stay below 30 for the remainder of the weekend before a winter storm starts Sunday night.
It wasn't clear what caused the early morning issue and there was not estimated time for repairs.
No injuries were reported by officials.
Copyright NBC New York