A floating hospital in the form of a Navy ship arrived in New York City on Monday to relieve pressure on hospitals already overwhelmed with coronavirus patients, attracting large crowds despite social distancing orders.
The USNS Comfort docked around 10 a.m. and will be ready to take in patients within 24 hours. While the ship won't treat people with COVID-19, its 1,000 beds and 12 operation rooms are ready to bolster the overtaxed health care system.
"On behalf of all 19 million New Yorkers, we are very grateful for what the people of this nation have done for us and we will return the favor," Gov. Andrew Cuomo said at a pierside briefing as the ship arrived behind him. Later, Rear Admiral John Mustin said the ship represented "all that was good and generous" about the American people.
The arrival of the Comfort attracted crowds, with many seeing the ship as a symbol of hope. While the groups of onlookers raised questions around social distancing, the mood was uplifting.
One man who worked search and rescue on September 11 was there in a mask and FDNY cap to see the ship come in. A young boy with his mom was talking about "all the beds" that the ship was bringing in. One person had made a sign to thank the crew onboard. And a woman remembered how previous New York City disasters offered a chance for people to gather and share their feelings. However, in this age of social distancing, it's not quite the same.
The Comfort, along with USNS Mercy, which was sent to the West Coast, will be able to treat anyone from minor cases to patients in critical condition. In addition to the extra room, the ship has laboratory facilities and oxygen-producing plants.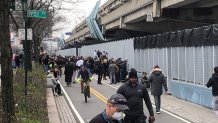 "I'm really looking forward to greeting the men and women, the medical professionals, the sailors, everyone who is making this possible," Mayor Bill de Blasio said Sunday.
He's expected to hold a news conference at Pier 90 in Manhattan later Monday. The Comfort had been undergoing maintenance in Norfolk, which The Pentagon initially said would take weeks to complete.
"The operation was supposed to take two weeks. The folks at EDC, working with the Army Corps of Engineers and the State Department of Environmental Conservation that got the job done in eight days," de Blasio said.
Both de Blasio and Cuomo have warned that the city's hospitals will soon reach capacity and efforts have already been made to build makeshift hospitals at locations such as the Jacob Javits Center and an emergency field hospital in Central Park.
This isn't the Comfort's first assignment in New York City. It was stationed off Manhattan's West Side in September 2001. The hospital ship arrived to Pier 92 three days after the 9/11 terror attacks, helping to treat hundreds of ground zero first responders.
Since that time, it has supported military campaigns and humanitarian missions, along with earthquake and hurricane relief. Most recently, the Comfort was deployed in Latin America, offering services to countries with lacking health care services.
Copyright NBC New York