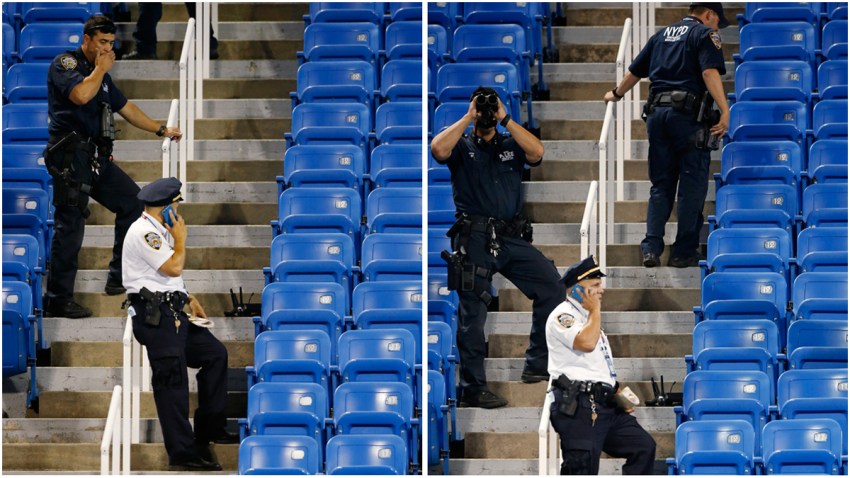 The New York City teacher arrested after a drone he was operating crashed into an empty section of seats during a U.S. Open match in Louis Armstrong Stadium last month has been ordered to perform five days of community service, prosecutors said Friday.
Daniel Verley, 26, was charged with reckless operation of a drone and operating a drone in an NYC a park outside the prescribed area, the NYPD said. He has been a science teacher at Academy of Innovative Technology in Brooklyn since 2013, authorities said.
No one was injured when his drone crashed into the stands Sept. 3. The black device flew diagonally through the arena during the next-to-last game of a second-round match that 26th-seeded Flavia Pennetta of Italy won 6-1, 6-4 over Monica Niculescu of Romania.
It broke into pieces upon landing, and the match was only briefly interrupted between points while police and fire department personnel went to look at it.
According to the criminal complaint, Verley, who is also a professional photographer, wanted to get photos of the globe statue at Flushing Meadows Park, near the tennis center. When he took the drone up for its second flight, it lost its signal and flew away from the globe.
Prosecutors say Verley cooperated fully with authorities in the investigation and has no criminal record. They said he never meant to send the drone into the stands and merely lost control of it.
"We cannot rely on happenstance to protect the public," Queens District Attorney Richard Brown said in a statement. "I urge hobbyists and other members of the public to use common sense when choosing to employ these unmanned vehicles – obtain the necessary permissions and only use these vehicles in areas deemed safe as the reckless use of unmanned model aircraft near locations where large groups of people assemble needlessly puts the lives and safety of people at risk."

Pennetta went on to win the US Open after defeating favorite Serena Williams in the semifinals.