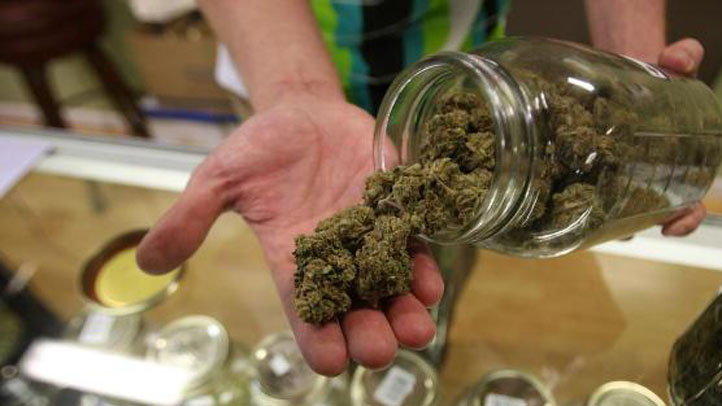 Even before New Jersey's Compassionate Use Medical Marijuana law can be put into effect, a memo from a Deputy U. S. Attorney suggests those who sell the product could face federal prosecution.
"They can open if they want to take the risk," said Chris Goldstein, a key leader in getting the law passed a year and a half ago, just before Republican Gov. Chris Christie took office.
But the memo from Deputy Attorney General James Cole that was sent Thursday to all U. S. attorneys makes clear that "state law or local ordinance are not a defense to civil or criminal prosecution."
An earlier document now called the Ogden Memo recently instructed U.S. attorneys in Washington and Oregon that seriously ill people in states with medical marijuana laws should not be an enforcement priority for federal law enforcement officials.
But the Ogden Memo does not address large, commercial cultivators and distributors of marijuana, which under New Jersey's new law are licensed as six non-profit Alternative Treatment Centers to be scattered around the state.
This new Cole Memo does, stating, "The Ogden Memo was never intended to shield (commercial) activities from federal ... prosecution."
Goldstein sees several positives from this latest Justice Department effort to provide guidance on what it will and will not overlook.
"This actually protects the patient even more," Goldstein said, referring to the reiteration that users should not be a priority for prosecution.
As to New Jersey's law, which has been held up by the Christie administration while awaiting this guidance from the feds, Goldstein said, "we have always said (New Jersey's proposed) regulations violate the intent of the law."
But while Goldstein said the ATC operators could still open up as they are doing in other states, the new Cole Memo clearly states that enforcement of the Controlled Substances Act remains a "core responsibility" of the Justice Department.
Follow Brian Thompson on Twitter @brian4NY