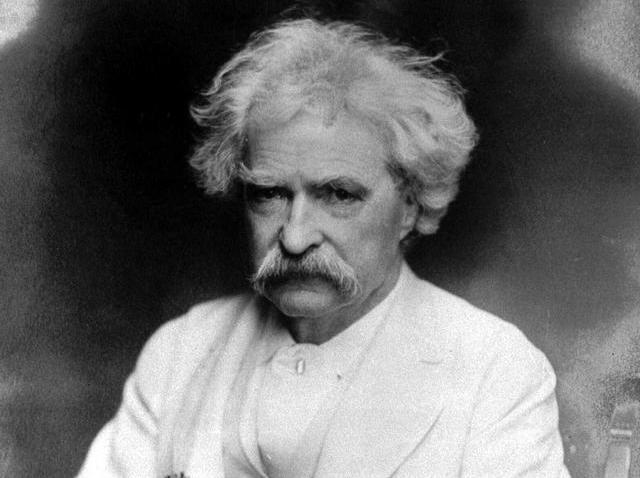 Today marks 100 years since the death of Samual Longhorne Clemens, otherwise known as Mark Twain, and on the centennial of his death, Sotheby's will exhibit 200 personal letters, manuscripts and photographs of the late American author.
Among the items that will go to the highest bidder is an unpublished tribute to his daughter, Olivia "Susy" Clemens. It's a 64-page, handwritten document called "A Family Sketch" that honors his daughter, who also inspired his "Joan of Arc" and "A Horse's Tale."
"She was a magazine of feelings and & they were of all kinds & of all shades of force"..."In all things she was intense: in her this charateristic was not a mere glow, dispensing warmth, but a consuming fire," he wrote of Olivia after her death at the age of 24 from spinal meningitis.
"Any Mark Twain archive or collector would be willing to go hungry for two or three years just in order to be able to buy it," David Hirst, general editor of the Mark Twain Papers and Projects at the University of California at Berkeley, told the Associated Press. He also called it a "very intimate family record."
"A Family Sketch" is expected to sell for $120,000 to $180,000.
Also going up for grabs is a letter written in 1868 to Twain's future father-in-law, Jervis Langdon, in which he defended his character to marry Langdon's daughter Olivia.
"I am not hurrying my love -- it is my love hurrying me ... As to what i am going to be, henceforth, it is a thing which must be proven and established. I am upon the right path -- I shall succeed, I hope. Men as lost as I, have found a Savior, and why not I?" Twain wrote to Jervis Langdon.
Twain and Olivia were married two years later.
The last large collection of Twain material went up for auction in 2003, also at Sotheby's, and fetched $1.4 million.
The collection going on display today is expected to go for $750,000 to $1.2 million. It belonged to the late media executive James S. Copley, who died in 1973.
The Copley collection, which also includes a rare broadside Declartion of Independence printed in the weeks after July 4, 1776, will go on sale at Sotheby's June 17.
Copyright AP - Associated Press