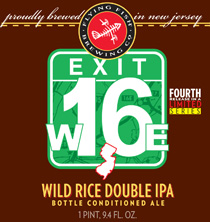 A South Jersey brewery that has started naming its brews after the exit numbers of the Turnpike will unveil its first North Jersey Exit brew next week.
The new brew? Exit 16.
Except there's no such exit. There's a 16W over by Giant's Stadium, and a 16E that takes you to the Lincoln Tunnel and New York City.
In actuality, the label of the new brew from the Flying Fish Brewing Company has both a W and an E and in a company press release is described by brewery founder Gene Muller as "a fun, flavorful tribute to one of the Meadowlands' indigenous food sources: wild rice."
Flying Fish and the Turnpike Authority were locked in a legal showdown when the brewery first started issued its "Exit" Beer series while using a logo that seemed to echo the Turnpike's.
Concerned that consumers thought the Turnpike was endorsing an alcoholic product, Flying Fish agreed to modify its logo, while keeping the "Exit" series concept.
"I'm happy to say we've resolved our differences with the company -- at the end of the day they were most cooperative," Turnpike spokesman Joe Orlando wrote in a statement.
For this first foray into North Jersey, the label will include the website address of the Hackensack Riverkeeper's website(www.hackensackriverkeeper.org) as well as information by the organization to restore the onetime dumping ground of trash and possibly bodies by the Mafia.
"Even though the area is better known as home to pipelines, landfills, and some so-called 'New York' sports teams, we see the beauty in the marsh landscape and wanted to celebrate its past and express our hope that it will be restored and preserved in the future," wrote the company's Muller.