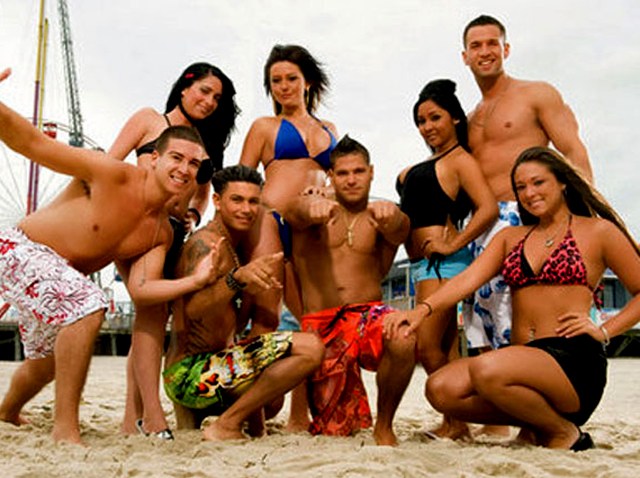 For all the "Jersey Shore" fans mourning the loss of the show to another shore -- the second season in Miami this summer -- don't worry.
The Tropicana Casino and Resort is now offering a "Jersey Shore Package", where they are offering fans the chance to recreate the same "high-energy nightlife fun" that the famously rowdy partiers had when they visited in an episode of their show.
The package features overnight accommodations, dinner at gourmet Italian restaurant Il Verdi, and a next-day breakfast at Seaside Cafe.
You also get a gift certificate to the Tropicana Salon, where trained stylists will give the ladies the popular Snooki poof and the gentlemen a blow-out "a la Pauly D."
The rooms will be fully stocked with a basket of Italian specialties, like sopresata, proscuitto, bread sticks, and candy, according to the hotel-casino -- the next-best thing to a home-baked lasagna from Vinny's mom.
After guests have snacked and practiced their fist bump in the room, they can dance and hunt for hot gorillas until the sun comes up at Providence, where they will be given VIP admission and complimentary cards with access to nightclubs, beverages, and parking discounts.
Guests worried that they wont have any time for a full "GTL" (Gym-Tan-Laundry) routine while on vacation can rest easy; the Tropicana's fitness center will be open daily, and the resort's laundry facility will be available for a small fee.
And the Bluemercury Apothecary spa can take care of all tanning needs, so you'll look great as you pose by the life-sized cutouts of the cast on display at the resort. Start practicing your pouts and poses!
Packages start at $878 per night based on double occupancy in a standard room.
For those looking for a more exclusive "Jersey Shore" experience, the resort is offering the "VIG" package, for "Very Important Guidos." You and three friends can book the same exact room where Sammi punched The Situation for calling Snooki fat, all for only $4,230 per night.
In a press release, Tropicana President Mark Giannantonio said the club received so many requests for the "Jersey Shore" suite since the episode aired that they were "inspired to recreate the fun with this package and help our guests enjoy a whole new energy here at the hotel."
Andre Dimino, National President of UNICO, the largest Italian service organization in the country and a fierce critic of the MTV show, was horrified by the news of the package.
"They should be ashamed of themselves because of the damage they're doing to our heritage and to young people effected by this," he said. "They're just capitalizing and perpetuating the negative stereotype."
Dimino was especially bothered by the "VIG" package, saying "The Tropicana is using a pejorative term. Would they do it with another racial group?"