Three people walked a man back to his Brooklyn apartment where they ended up beating up and robbing him last month, police say.
The NYPD says on July 9 two men and a woman began talking to the 37-year-old victim in Brownsville and walked with him all the way to his building. Once the man got inside the vestibule, the two men attacked him, punching him and putting him into a chokehold while the woman acted as a lookout, according to police.
The robbers went through the victim's pockets, taking his cellphone and cash, authorities said. The trio then ran away from the building, heading west on Riverdale Avenue.
The victim was taken to an area hospital to be treated for a fractured eye socket, police said.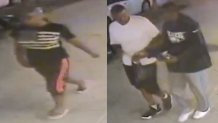 Police Tuesday night released surveillance footage of the three suspects in the hopes of getting them off the streets. One man is seen wearing a white shirt, and the other is seen wearing a sweatshirt. The woman is seen wearing a shirt with an American flag on it.
Police urge witnesses to call the NYPD with tips.
Top Tri-State News Photos