A woman was sexually attacked by three men behind a Brooklyn building in the early hours Monday morning, police say.
Officials say the 30-year-old woman was in the rear of a building on Eastern Parkway in Crown Heights at 3 a.m. when three men came up to her. Cops say the three suspects sexually attacked her before fleeing the area in an unknown direction.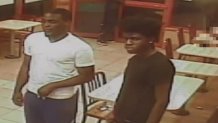 It wasn't immediately clear why the trio ganged up on the woman, but she was not hurt, according to the NYPD.
Investigators released surveillance footage of two the three men at a nearby shop in the hope of catching them. Police urge anyone who might have information to come forward with details.