What to Know
Chef José De Jesus, aka Trill Cooker, hosts multi-course Breaking Bread pop-up dinners in a variety of locations throughout the Bronx.
The events are announced through Instagram, with the menu remaining a secret until diners arrive on the night-of.
Dinner is served in an open-kitchen environment that allows guests to share in conversation while watching each dish be prepared.
New York City is no stranger to secret societies of dining, but one chef is putting a unique spotlight on the Bronx culinary scene through these underground pop-up dinners.
Chef José De Jesus, who goes by Trill Cooker, has been hosting seven- to nine-course pop-up dinners in a variety of locations throughout the Bronx since April 2017. These unique "Breaking Bread" pop-up dinners get their name and inspiration from the critically acclaimed TV show "Breaking Bad," capitalizing on the same mysterious allure that made Walter White successful.
"I wanted to run a restaurant like they run their meth business in the show: discreet and quiet, but with the best product out there," De Jesus told diners at the start of a recent dinner on July 16 at Mottley Kitchen in the Bronx.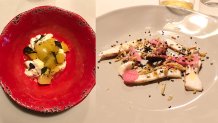 After seeing the growth of the culinary scene in Brooklyn over the past few years, De Jesus wanted to bring that same attention to his home borough of the Bronx and make it the new place to eat.
"There aren't really any chef-driven restaurants in the Bronx. I want to help bring them here," De Jesus told News 4 New York.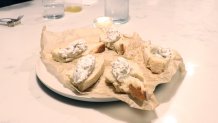 Collaboration is a major component of Breaking Bread. De Jesus recruits the help of other chefs to plan and prepare the night's menu. On July 16, he was accompanied by Chef Elio Lapaix, the current sous chef at Ristorante Morini, who has been contributing ideas to these dinners from the beginning.
De Jesus, who is Puerto Rican, was first drawn to food as a result of his mother and grandmother's cooking.
"I always looked forward to my grandmother vacationing over here because I knew I was going to eat well," De Jesus reminisced.

Before launching Breaking Bread, De Jesus learned tricks of the trade from his years working in the industry. He studied culinary arts at the Art Institute of NYC and has since worked at La Marina, Ouest, and Il Pesce at Eataly. And though perhaps not as glamorous in name, it was his time working at the Deutsche Bank Executive Dining Room, which served a different selection of food every day, that inspired him to adopt an ever-changing menu for his pop-up dinners.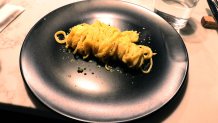 Over the year and a half that De Jesus has been hosting his pop-up dinners, he has learned not to over-complicate his selection of food.
"I let simplicity speak for itself. I want to give you produce in its best form," the chef explained.
The decision to not announce the menu beforehand gives De Jesus and his collaborators a great deal of flexibility to plan around what is available. As a result, the courses are heavily influenced by the season and what can be found fresh at the market. At Mottley Kitchen, a location that has been used for multiple dinners since Breaking Bread was first launched, he is even able to incorporate herbs from the venue's rooftop garden.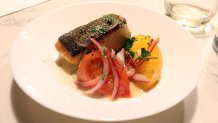 For De Jesus, it is important to take chances on the food he serves.
"It's about creating a lane for us to be creatives. We try to not let recipes or traditions stop us from testing out our creative minds."
Courses throughout the dinner hit upon a wide range of food groups, from pasta and freshly baked bread, to seafood, steak and dessert. While the menu is constantly changing from dinner to dinner, the meal always ends with the same final course: a warm chocolate chip cookie fresh from the oven. Dubbed Chocolate Excuses, these cookies are made from De Jesus' daughter's own recipe.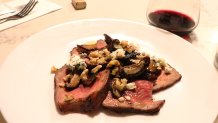 Beer and wine pairings are served to accompany various courses throughout the meal, with an effort made to support other local businesses, like the Bronx Brewery.
The secretive nature of the pop-up is not the only aspect that makes Breaking Bread stand out as an underground phenomenon.
The barriers between the kitchen and the restaurant are broken down as guests are given a front row seat to watch each dish come together. With the open kitchen format, De Jesus is able to share his own story throughout the night as he cooks, serving up conversation and culinary insight in addition to delicious food.
The whole process runs like clockwork, with the transitions between courses smooth and seamless.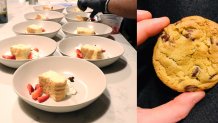 At its core, the meal is also a social experience. The seating is intimate; only nine diners were present at the chef's counter on July 16, and mingling between patrons is highly encouraged. Strangers are offered a chance to connect over food and drink.
Over time, Breaking Bread has built up an underground cult following that shows no sign of stopping. It's not something De Jesus could have anticipated when he first began.
"I've been surprised by the amount of love I've been shown. I would have never imagined this."
For more information on Breaking Bread and Trill Cooker's other events, check out the chef's website or Instagram. The dates of the events are announced on Instagram where guests can express their interest; those who want to attend are given a code and a link to the ticket page, with prices ranging from $85 to $125 per person, depending on the number of courses.
Once customers buy the tickets, they receive the time and location of the dinner with the menu remaining a surprise until the night of.