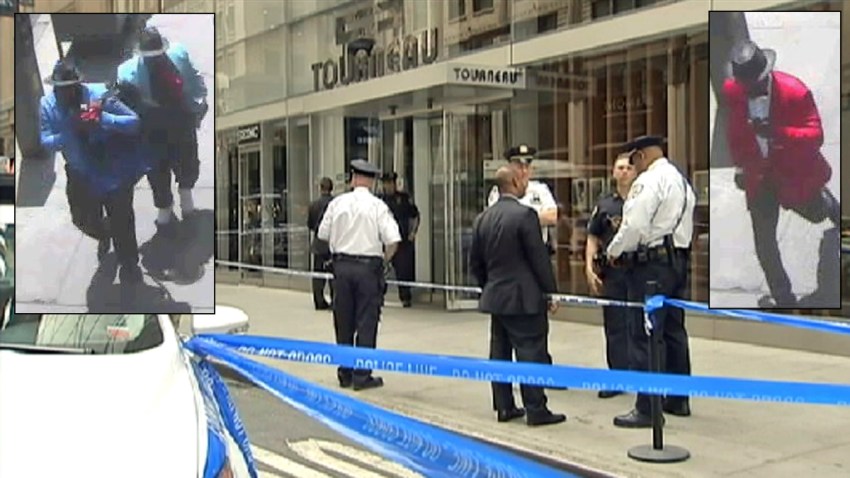 One of the three men thought to be behind the robbery at a high-end Madison Avenue jeweler last year has been cuffed in California, law enforcement officials told NBC 4 New York.
Christopher Mulligan was arrested by U.S. Marshals, members of the Bureau of Alcohol, Firearms, Tobacco and Explosives and NYPD detectives in Stockton, California, according to officials. He's facing charges of robbery, robbery conspiracy and use of a firearm. If convicted of all three crimes, he faces up to life in prison.
Officials said that Mulligan, 22, is one of the three men in colorful suits and fedoras seen on surveillance footage smashing into jewelry cases and stealing Rolex watches at Tourneau on Manhattan's East 53rd Street on May 12, 2015.
Prosecutors said that during the heist one of the robbers fired a bullet into the ground. The bullet broke into fragments, and one of the shards grazed a customer. That same robber then fired in the direction of an employee who poked his head through a door during the heist.
The haul of 20 Rolex watches, was valued at $730,000.
A retired police officer was working in the store and chased after the robbers after the heist. One of the suspects, Omar Rawlins, was arrested a short time after the theft and authorities recovered five of the stolen watches.
A third suspect remains at large.
Attorney information for Mulligan wasn't immediately available.