What to Know
The victim, 23-year-old Connor Rasmussen, was stabbed on Madison Avenue early Sunday
The victim was able to pull the knife out of his own head, police said
He went to the hospital but was barely injured, and is now back home in Washington; he had come to the city to propose to his girlfriend
Police have released surveillance photos of the man suspected of stabbing a tourist in the back of the head near Grand Central Terminal over the weekend.
The images show the suspect walking down the street, wearing a black skull cap, black sweat pants, black sneakers and a black hooded sweatshirt with white stripes and the word "Jordan" written on the sleeve. The man appears to be holding some object in his hand, though it's not clear if it's a weapon.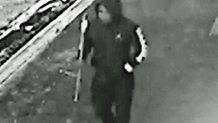 The victim, 23-year-old Connor Rasmussen, had flown into the city from Washington state to propose to his girlfriend when he was attacked early Sunday. He was walking down Vanderbilt Avenue with a group of friends when he noticed someone following him, he later told police. He turned the corner at 46th Street, and the man allegedly yelled, "Hey!"
The Top 16 News Stories of 2016
Once they got to Madison Avenue, police said the man pulled out a steak knife and stabbed Rasmussen in the back of the head.
The victim was able to pull the knife out of his own head, police said. He went to the hospital but was barely injured, and is now back home in Washington.
Anyone with information on the suspect is asked to call Crime Stoppers at 1-800-577-TIPS.
Top Tri-State News Photos