From a mansion for wine to a euphoric dream land, you don't have to travel far to get out of the busy streets of New York City with these three pop-ups.
Fairy Island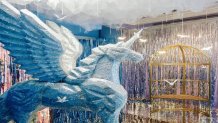 Fairy Island transports New Yorkers from their busy reality to this euphoric paradise up until November 17. This midtown nirvana features the work of three female innovators who found it hard to relax in a fast-paced New York City. The pop-up demonstrates the long-lost dreams and desires of six women who live there. Each room focuses on a different dream; whether about an aspiring young singer, a secret garden or a time-machine, each room is diverse in the story it tells. The pop-up is open from Tuesday through Saturday, from 11a.m. – 9:30p.m.
Watermelon Mèlange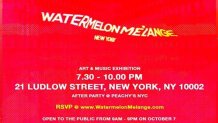 You won't find any watermelons at this immersive exhibit in Chinatown. Watermelon Mèlange is a melodic experience where guests are invited to listen to music through wireless headphones and immerse themselves in corresponding art. The pop-up juxtaposes two diverse, creative art-forms: grunge hip-hop and figurative paintings. The collaboration can be enjoyed with free Black Square pizza and cocktails for attendees who RSVP ahead of time at this link. The pop-up exhibit will open on October 6, at 7:30p.m., and will run through Sunday, October 7, from 10:00a.m. – 5p.m.
Rosé Mansion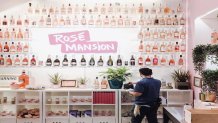 There's a big possibility you've seen The Rosé Mansion at least once on your Instagram feed in the past three months. The predominately pink pop-up features rosé from around the world as you wade through the rooms learning about the history and science of the beverage. For $45 guests can sip while they blend their own wine, swing from a chandelier and learn about everything that goes into making the pink stuff. The pop-up is open through the month of October and located in midtown.