In celebration of National Dog Day on Saturday, StreetEasy has released a list of the best neighborhoods in New York for dog owners.
Six of the neighborhoods are in Manhattan, three are in Brooklyn and one is on Staten Island. No neighborhoods in the Bronx or Queens made the list.
The results were calculated based on four key factors that included the share of pet-friendly listings on StreetEasy; the share of dog sitters on Rover.com; the proximity to nearby vets; and the number of dog parks and off-leash areas.
[NATL] 200 Doomed Dogs Saved by Airlift to US
The top neighborhood is Battery Park City. It has the greatest share of dog-friendly rental buildings, at 63 percent, according to StreetEasy.
In second place is DUMBO, which has seven dog parks despite its small land area. In third place is Tribeca, where 26 percent of rentals are dog-friendly.
Roosevelt Island, technically a part of Manhattan, is number five on the list. Residents there prefer the Pomeranian more than any other dog. The top breed in the Columbia Street Waterfront District in Brooklyn, number six on the list, is the Pitbull mix.
The seventh best place for dog owners is the Flatiron district, where 22 percent of rentals are dog-friendly.
SoHo, at number eight, has more than 500 dog sitters and walkers, and Silver Lake on Staten Island, number nine, has five dog parks and a lake if canines want to get their feet wet.
Rounding off the list is downtown Brooklyn at number 10. It's the neighborhood with the most diverse collection of breeds.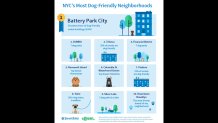 StreetEasy also tallied up some other facts about New York dogs.
It found the most popular dog breed in the city is the Yorkshire terrier. The Shih Tzu comes in second, and the Chihuahua, in third.
It also looked at the sizes of dogs throughout the five boroughs. It found that 42 percent are small dogs; 31 percent are medium dogs; 26 percent are large dog; and 1 percent are giant dogs.