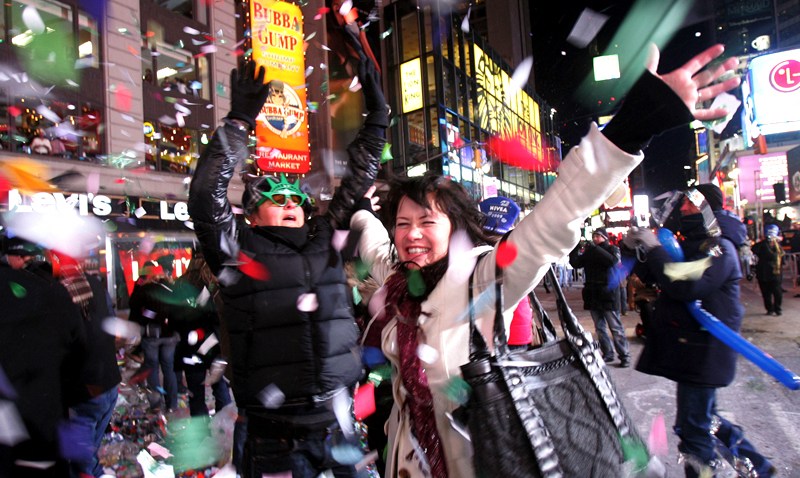 When revelers pack Times Square for the annual New Year's eve celebration on Monday night, police will observe a tradition of their own: giving them lots of company.

Each year, the NYPD assigns thousands of extra patrols to the festivities — in ways seen and unseen — to control the crowd and watch for any signs of trouble. Hundreds of thousands of people from all over the world are expected to pack into the bow-tie stretch of streets in Midtown Manhattan to see the crystal ball drop and ring in 2013.

"We think it's the safest place in the world on New Year's Eve," Police Commissioner Raymond Kelly told The Associated Press ahead of the holiday.

Security in Times Square has become an obsession for the NYPD in the post-9/11 world, especially since the botched attempted car bombing there in the summer of 2010. More recently, details emerged in another case in Florida saying that one suspect considered Times Square as a potential target.

"Times Square is an iconic location that draws a significant number of people every day," Kelly said. "New Year's Eve is the apex of that, so we have to plan accordingly."

Kelly stressed that there are no specific terror threats related to a celebration televised across the globe. But believing that the so-called "Crossroads of the World" is always in the crosshairs of would-be terrorists, the nation's largest police department has turned securing the event into a science.

Hotels are a particular concern. The department has worked closely with managers, urging them to guard against anyone who might seek to check into a guest room and use it to launch a sniper or other type of attack.

"We ask them to monitor people coming into the hotels very closely," Kelly said.

In terms of crowd control, police noticed last year that revelers starting flocking to Times Square earlier in the day to hear rehearsals of performers scheduled for various telecasts.

"At one o'clock in the afternoon, there was a significant crowd," Kelly said. "It was really packed with people."

So this year, the department will adjust by posting more officers on the streets before nightfall, the commissioner said.

Along with the army of additional uniformed officers, police will use barriers to prevent overcrowding and for checkpoints to inspect vehicles, enforce a ban on alcohol and check handbags. Visitors will see bomb-sniffing dogs and heavily armed counter-terrorism teams. Rooftop patrols and NYPD helicopters will keep an eye on the crowd as well.

Other plainclothes officers are assigned to blend into the crowd. Many officers will be wearing palm-size radiation detectors designed to give off a signal if they detect evidence of a dirty bomb, an explosive intended to spread panic by creating a radioactive cloud.

The bomb squad and another unit specializing in chemical and biological threats will sweep hotels, theaters, construction sites and parking garages. They also will patrol the sprawling Times Square subway station.

The NYPD also will rely on a network of thousands of closed-circuit security cameras carpeting the roughly 1.7 square miles south of Canal Street, the subway system and parts of Midtown Manhattan.

Another annual practice: Sealing manhole covers and removing mailboxes to prevent anyone from using them to conceal an explosive or other device.

In 2010, Faisal Shahzad left a Nissan Pathfinder outfitted with a crude, homemade propane-and-gasoline bomb on a block teeming with tourists. The explosive malfunctioned, but the near-miss spread a wave of fear across the city. Authorities say Shahzad was backed by the Pakistani Taliban,

Shahzad was arrested and, after a guilty plea, sentenced to life in prison. But he warned, "Brace yourselves, because the war with Muslims has just begun."
Copyright AP - Associated Press