What to Know
Eight people were killed and at least 12 injured when a man in a rented pickup truck rampaged down a popular Manhattan bike path Tuesday
Witnesses described a shocking and gruesome scene along the bike path; the truck then deliberately crashed into a school bus
Investigators say the alleged driver of the truck was boastful after the attack and had followed ISIS instructions "almost exactly to a T"
A man who police believe was planning an ISIS-inspired attack for weeks rented a truck in New Jersey on Tuesday before speeding into Manhattan and charging through a bike lane full of people. At a press conference Wednesday, the deputy commissioner of intelligence and counterterrorism at the NYPD, John Miller, said the investigation is just getting started and information is preliminary but authorities have a rough idea of how things transpired in a terrorist attack that left at least eight people dead and a dozen more injured on a sunny Halloween afternoon.
2:06 p.m. – The suspect, 29-year-old Sayfullo Habibullaevic Saipov, rents a truck from a Home Depot in Passaic. He was only permitted to use the truck for 75 minutes, but authorities say he had no intention of returning it. After picking up the vehicle, Saipov allegedly makes the roughly 20-mile drive to Manhattan. Authorities say he'd been planning the attack for months.
2:43 p.m. – License plate readers on the George Washington Bridge show the truck exiting the bridge on the West Side Highway in Manhattan and speeding south towards the World Trade Center.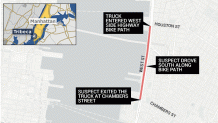 3:04 p.m. – A Port Authority camera on top of an air vent outside the Holland Tunnel shows the truck entering the riverfront bike path at Houston Street and traveling southbound at a high rate of speed. Saipov drives the truck in the bike and pedestrian walkway for the equivalent of about 14 blocks — about eight-tenths of a mile — before deliberately slamming into a small school bus near Stuyvesant High School and P.S. 89, according to authorities.
Saipov allegedly exits the vehicle with two objects in his hands; they're later said to be a paintball gun and pellet gun. He yells "Allahu Akbar," an Arabic phrase meaning "God is great," and darts through traffic on foot, according to authorities.
3:08 p.m. – Police receive more than a dozen 911 calls reporting bodies in the bike path, a school bus crash and a man waiving a gun in the street. Two officers responding to another call are alerted about the incident by people on the street. They head to the scene and are joined by a third officer, who sees a man waving a gun and yelling. One of the officers, Ryan Nash, fires his weapon at the man, hitting him in the stomach and bringing him down, authorities say.
Tuesday evening and overnight – Injured people are triaged at the scene and taken away by FDNY emergency personnel. Authorities set up a perimeter around the truck and a NYPD bomb squad checks the vehicle. Hundreds of investigators then scour the debris-ridden West Side Highway. Witnesses are interviewed and a number of search warrants are executed, including at Saipov's reported home in Passaic.
Saipov remained in critical but stable condition at the hospital Tuesday night after undergoing surgery.