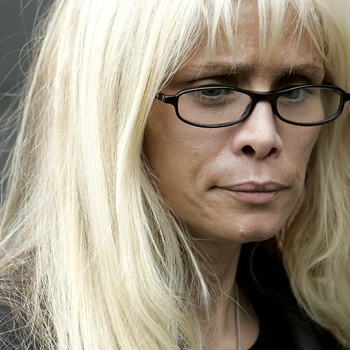 If you're in the market for a garish Long Island mansion that belonged to a mafia boss' daughter turned reality TV star, well, you're in luck.

Victoria Gotti, the daughter of the late Gambino crime family boss John "Dapper Don" Gotti, is facing foreclosure on her Westbury mansion.
Gotti claims that her ex-husband, Carmine Agnello, borrowed $850,000 from JP Morgan to buy the palatial home in 1997 without her knowledge.
"I was awarded full ownership of marital property . . . and all I inherited was a house with millions of dollars' worth of debt," Gotti told The New York Post. "This should finally put to rest all the government lies and rumors that I have $200 million buried in my back yard."
However, lawyers for the bank convinced judges that her claims weren't accurate.
She owes JP Morgan a whopping $650,000 in mortgage payments and she hasn't made a payment in two years, court papers revealed.
In 2001, Agnello pleaded guilty to racketeering charges in connection with his Queens auto junkyard.
Victoria has been the sole-owner of the home since 2004 and had narrowly staved off foreclosure in 2005, even though her family was being featured at the time on the reality TV series "Growing up Gotti." The show ran from 2004 to 2005 and was canceled after 41 episodes because of poor ratings.
Gotti once tried to sell the estate for $4.8 million, but it is currently listed with Century 21 at $3.2 million, a source told The Post.