What to Know
The NYC Department of Environmental Protection has launched a campaign to prevent "fatbergs," a growing issue in the city
Fatbergs form when grease poured down the sink combines with unflushable items in our sewage system
Free flyers are available on fatbergfree.nyc that can be used to spread awareness on how to prevent fatbergs
"Trash It. Don't Flush It." ads have been popping up all around New York City. You may have seen them in subway stations, on the train, in bus shelters, or even on social media.
The ads are all part of a campaign the Department of Environmental Protection started to warn residents about so-called "fatbergs" — icebergs of sorts made of fat, not ice.
When grease is poured down the sink, it combines with items that can clog the sewers, sticking together and forming fatbergs, DEP says.
The city spends $19 million a year transporting unflushable items to landfills.
DEP wants New Yorkers know that fatbergs are a growing issue — and that there are ways to prevent them.
Fatbergs aren't only an issue in New York City. In London, a 210-foot-long fatberg was found blocking a sewer, according to DEP.
"This campaign will help to raise awareness of this important issue and remind New Yorkers to dispose of trash where it belongs — in a trash can," DEP Commissioner Vincent Sapienza said.
Tossing anything besides toilet paper down the toilet can clog pipes, leading to serious and costly flooding and damage in the city's wastewater systems located all throughout the city.
Wipes (even ones that are labeled flushable), feminine products, makeup applicators, condoms and cat litter are just some of the items that the DEP screening system has found.
It's pretty simple if you only flush the four P's: Pee, Poop, Puke and Toilet Paper. You also shouldn't throw grease down the sink.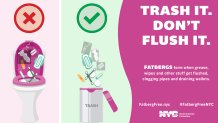 The campaign's new website, fatbergfree.nyc, offers flyers that can be downloaded for free and hung in offices or businesses.
You can also request to have multiple copies of the "Trash It. Don't Flush It." flyers mailed to your office or business location.
So next time you're wondering whether or not to toss something in the toilet, remember: "Trash It. Don't Flush It."