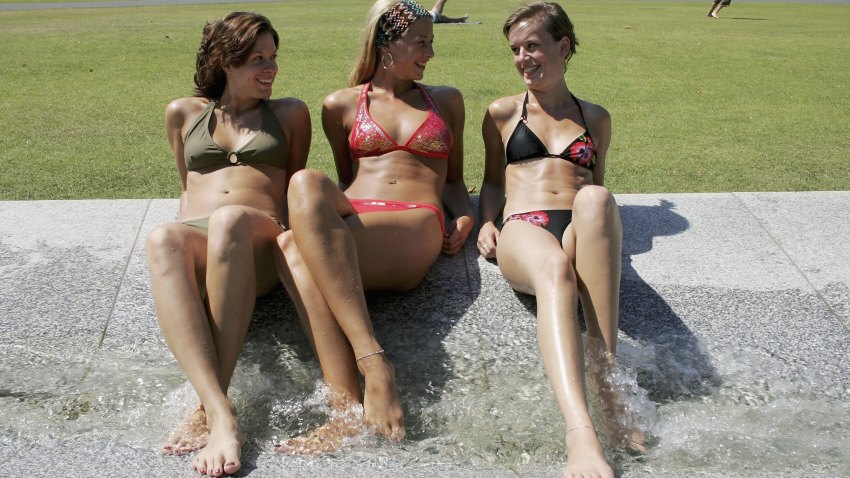 The heat wasn't going to keep Jerryll Freels inside on his vacation.

The 28-year-old made his way through Times Square on Monday, combating the hot weather with a wet white washcloth over his head and a water bottle in hand.

"It's hot, but I know how to stay cool," said Freels, visiting from Minneapolis.

A string of hot days were expected this week, with temperatures en route to 100-plus degrees in some places. Temperatures reached into at least the 90s Monday from Maine to Texas, into the Southwest and Death Valley.

In Newark temperatures hit 102 degrees, the sure sign of a scorcher. In Central Park readings showed a high of 99. LaGuardia Airport hit 98 and JFK 97. Surprisingly, none of those were record breaking.
Warm air is "sitting over the top of us, and it's not really going to budge much for the next day or two," said Brian Korty, a meteorologist with the National Weather Service. He said after that, a system coming in off the Atlantic Ocean would bring in cooler temperatures.

In Manhattan, Yasser Badr manned his steel food cart in the sun outside Penn Station. Surrounded by the grill, fryer and gyro rotisserie all going full throttle, he was already covered in sweat. A question about the heat elicited only a resigned laugh.

"This kind of metal, it makes everything more hot," he said, patting the wall of the cart.

The long weekend had more people out seeking relief. Five Connecticut state parks had to stop admitting people because they had reached capacity.

A major utility restricted water use on the New Jersey shore, forbidding residents from watering lawns and washing cars.

About 17,000 customers in northern New Jersey lost power at about 1 p.m. Monday, though Jersey Central Power and Light spokesman Jim Markey said it was too early to know whether the outage was heat-related.

Demand is anticipated to increase when offices reopen, said Bob McGee, spokesman for Consolidated Edison in New York. He said Con Ed was preparing for peak usage to break the record set on Aug. 2, 2006.

Korty reiterated that danger from increasing temperatures is likely to grow.

"As the temperature and humidity both get higher, the stress it can put on the human body increases," he said, "and therefore the higher the temperature and higher the humidity, the greater the chance of people having problems."
To find a Cooling Center near you, or for tips on how to beat the heat, click here.
Copyright AP - Associated Press