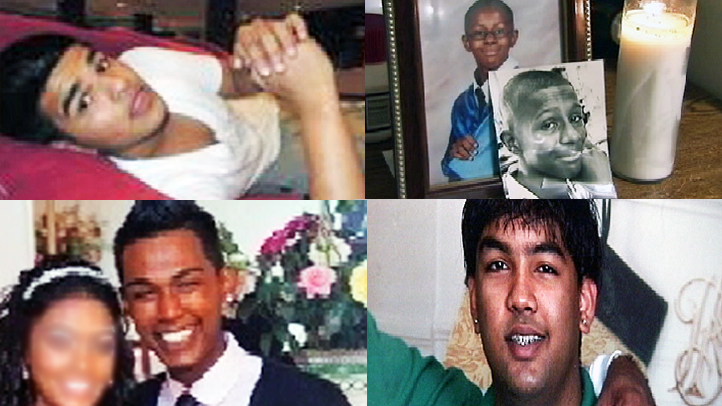 Friends and family are mourning Tuesday after a group of close young friends from Queens were killed in a horrific parkway crash on Long Island.
Christopher Kahn, 18, and Darian Ramnarine, 19, both of Jamaica; and Neal Rajapa, 17, and Peter Kanhai, 18, both of South Ozone Park, perished in the crash. The driver, 17-year-old Joseph Beer, of Richmond Hill, survived and is being treated at Winthrop University Hospital for his injuries.
The five close-knit childhood friends had graduated from the same high school in Richmond Hill.
In Jamaica Tuesday, Ramnarine's grieving father cried as he called his son "a loving child."
"Everybody loved him -- his whole family loved him, his friends, everybody," said Chris Ramnarine.
Christopher Kahn's father, Somdat Kahn, was still in shock when he told NBC 4 New York, "It's a very, very hard situation right now. Very hard. I can't explain it."
Peter Kanhai's uncle, Jagnarine "Jack" Kanhai, said his nephew was a smart and generous kid.
"He would help you, give you the shirt off his back," said Jack Kanhai. "You ask him for anything, it's yours. You ask him to do anything, he dropped what he was doing and he did it for you."
The teens were all passengers in a Subaru Imprezza when it slammed into trees just off the westbound Southern State Parkway before dawn Monday. The victims were all ejected from the vehicle, four of them killed instantly in a crash so powerful it rocked homes in the neighborhood.
Young mourners paused at the crash site in West Hempstead through the evening Monday, contributing to a growing memorial and struggling to understand the sudden loss of lives.
"I can't believe it," said friend Chris Doodnath. "Even till now, I couldn't believe it. I can't believe they're gone."
A friend said Beer had just gotten the car.
"You know everybody, when they get their brand-new car, they love being in it," said Alex Maharana. "Maybe they were just taking a cruise."
State Police said Beer shouldn't have been behind the wheel in the first place: Beer only had a learner's permit, and according to DMV regulations, should not have been driving been 9 p.m. and 5 a.m. without a parent, guardian or driving instructor who was over 21 years old.
"Even though he wasn't supposed to be driving, nobody deserves this. At all, ever," said Doodnath. "You can't wish this upon anybody. He made a mistake, but they don't deserve this."
Jack Kanhai said he felt sorry for Beer.
"If he survives this, he's going to live knowing he was driving that car and four of his friends died," he said. "And that's not easy to live with."
Prosecutors have not said whether they plan to pursue charges against Beer.
Copyright AP - Associated Press