What to Know
Police are looking for suspects in two separate gropings of teenage girls on mass transit in the Bronx
In one case, a 15-year-old girl was groped inside a 6 train; in the other, a 15-year-old girl was groped on a BX2 MTA bus
Police have released surveillance images of the suspects in each of the cases; anyone with information is asked to contact Crime Stoppers
Police say they're looking for two men in two separate incidents in the Bronx in which teenage girls were groped on a subway train and a bus.
A 15-year-old girl reported that a man rubbed himself against her buttocks inside a southbound 6 train at around 6:45 a.m. on Friday, Feb. 8, according to police. After the two got off at the Hunts Point Avenue station, the man ran off.
She spotted him again about a week later, at the Parkchester Avenue subway station, boarding the southbound 6, police said. She was able to take a photo of the suspect, described as about 60 to 70 years old, 6 feet tall, with salt and pepper hair.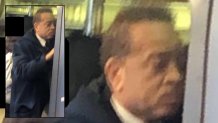 In another incident on Wednesday, Feb. 20, two young sisters, ages 13 and 15, were sitting inside a BX2 MTA bus going northbound near Grand Concourse and East 170th Street at around 6:30 a.m., when a man sat next to them and started talking to them, police said.
The man leaned forward and began rubbing the older sister's inner thigh with his hand, according to police. When they got up to sit in another part of the bus, he followed them and again tried to make conversation. When the girls tried to leave, he grabbed the 15-year-old girl's buttock and followed them off the bus. He then ran off.
The suspect in the case is about 24 to 25 years old, 5 feet 8 with a beard. He was last seen wearing a dark-colored knit cap, red or pink headphones, a green hooded coat, red sweatpants and tan work boots.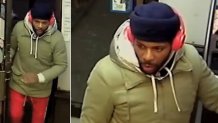 Anyone with information in either case is asked to contact Crime Stoppers at 800-577-TIPS.