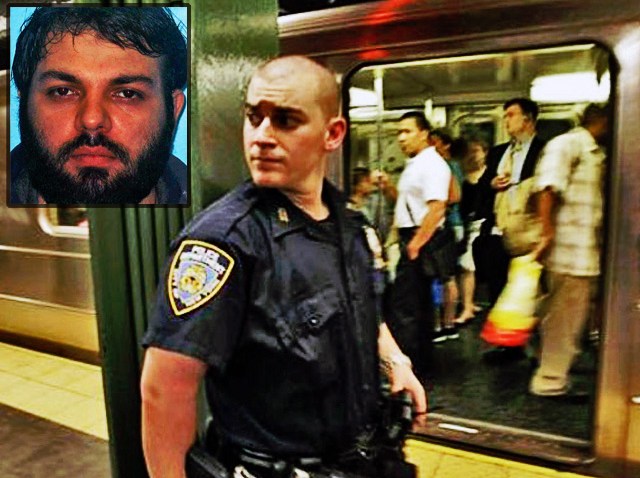 With a touch of remorse and a rant against Jews, a Queens cab driver pleaded guilty Friday to plotting to blow up rush hour subways trains in Manhattan.
Zarein Ahmedzay, 25, said "Guilty" in a clear voice three times in Brooklyn Federal Court, admitting to the thwarted suicide bomb plot that authorities have called the most serious threat to national security since 9/11.
Ahmedzay is the second of three men to plead guilty in connection with the deadly plan to explode bombs on Manhattan subways last September.

Mastermind and admitted al-Qaida associate Najibullah Zazi pleaded guilty to terror charges in late February. A third suspect in the subway plot, Adis Medunjanin, remains the last named defendant to maintain his innocence.
Ahmedzay quoted from the Koran, advised Americans not to wage war against Islam and said he was "thankful" that he hadn't harmed anyone, but worried that others would.
"Verily Allah has purchased for the believers their lives and wealth for the price of Paradise," Ahmedzay began, quoting from the Koran. "They fight in the way of Allah. They kill and get killed."
He then went onto lecture Americans against sending troops to the Middle East: "I urge the American people to stop supporting the war against Islam... I'm thankful for myself that I did not do anything to harm anyone but I'm fearful that someone else may do the same thing."
Magistrate Steven Gold then cut off Ahmedzay when he began saying "there's a group of Zionist Jews, I believe, who want a permanent shadow government within the government of the United States of America."
Ahmedzay admitted meeting with Al Qaeda leaders in Pakistan in the summer of 2008 with Zazi and another alleged cohort, first offering to wage jihad against American forces in Afghanistan. However the leaders convinced the three to plan a "suicide bombing operation" in the U.S., urging them to pick "well known structures" in New York to bring "maximum casualties." However in the end, based on the beauty parlor chemicals they were mixing as explosives, the men decided to target Manhattan subways, he said.
Prosecutor Jeffrey Knox identified the Al Qaeda leaders who met with Ahmedzay and the others as Saleh al Somali, chief of external operations, and Rashid Rauf. Both men have since been killed.
Ahmedzay's defense attorney declined to say if his client is cooperating with law enforcement, adding that he saw "potential benefit" to pleading guilty.
"When he said he's thankful that he did not have to do anything, I think he meant that," said Ahmedzay's defense attorney Michael Marinaccio.
Ahmedzay faces up to life in prison for his crimes.
Sentencing is set for July 30th.
The thwarted plot -- three rush hour suicide bombings on packed Manhattan subways -- is considered the biggest threat to national security since the terrorist attacks on Sept. 11, 2001, officials said.

Prosecutors say the attacks were modeled after the London transit system bombings in July 2005, when four suicide bombers killed 52 people and themselves in an attack on three subway trains and a bus.
Last month, an Afghanistan-born imam linked to the suspects pleaded guilty to lying to the FBI when asked about the men. He was sentenced to time served and ordered to leave the United States.

Officials have said a fourth suspect is in custody in Pakistan, but have given no other details about him.
Copyright AP - Associated Press