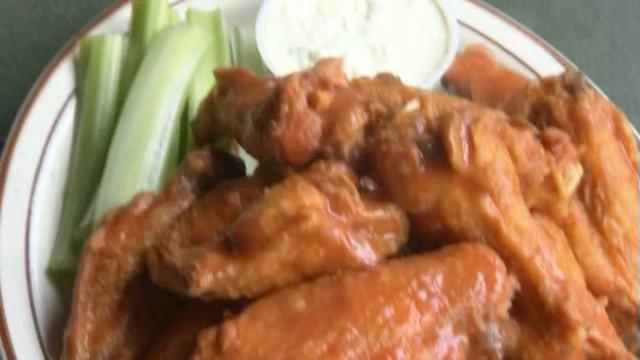 From a fried chicken and beer party to a kosher pig skin celebration, here are some of our favorite game day feasts to help you get your fill of Super Bowl XLVIII.
Get a taste of all five boroughs at Whiskey Park. The Central Park South staple will be serving 6-foot heroes from some of the best sandwich vendors in town! Expect top-notch cold cut heroes from Tino's Deli of Arthur Ave (Bronx), Zito's (Brooklyn), Brothers (Queens), Goodfellas (Staten Island) and Faicco's (Manhattan). Guests can indulge on sandwich trios (choice of three heroes) and a side salad for $20. Super Bowl-themed cocktails like the Benchwarmer (rum, Gatorade G2 Fruit Punch, fresh mint, lemon, orange, club soda) will be flowing as well as unlimited beer specials. Whiskey Park / 100 Central Park S at 6th Ave || Reservations: Email TMauriello@GerberGroup.Com
On Super Bowl Sunday, The Breslin Bar & Dining Room is loading in big screen TVs and serving up menu with mounds of fried chicken and beer specials. A variety of beer packages are available, from buckets of Abita Light and Stoudts Pilsner to a 30-pack of Narragansett. For parties of five or more, fried chicken feasts are available for $50/person. Seatings will take place between 5:30-6:30 p.m.
The Breslin / 16 West 29th Street btwn Broadway and 5th Ave || Reservations: Email superbowl@thebreslin.com
At noon on Sunday, the festivities will kick off at Standard Biergarten in the Meatpacking District. The Tailgate Party blowout will have guests jamming to live music from The Adlers throughout the afternoon, and the ping pong tables will be open for those wanting a big game of their own. Picnic table reservations can be made for up to eight guests, which includes an exclusive Tailgate Package with pretzels, sausage platter, salad, sauerkraut and Igloo cooler of bottled beer. Post-tailgate, a Super Bowl XLVIII viewing party kicks off at 5 p.m. and prizes will be given out each quarter.
Standard Biergarten / 848 Washington St at Little W 12th St || Reservations: Call 212-645-4100 or email Biergarten@StandardHotel.com
Hudson Stadium
invites you to watch the Super Bowl XLVIII in true fashion with its own tailgate in the park, which includes games of cornhole, tableside ice chests of beer and an assortment of artisanal delectable wings like habanero, spicy buffalo, Carolina BBQ and kung pao. Kick things off at 4 p.m. with a one-hour open bar followed by a viewing party in the hotel's beer hall, Hudson Common. The game will be shown on 11 giant flat screens and three 100-inch HD projectors. Tickets start at $15. Group packages available. Hudson / 356 W 58th St btwn 8th & 9th Aves ||
More info here
Neapolitan pizzeria
Ribalta
in Union Square will be embracing American football with its own Italian-inspired Super Bowl viewing party on a 16-foot HD mega-screen projector. For $15 per foot, guests can order a special game day hero stuffed with Italian cooked ham (prosciutto cotto), American cheese, lettuce, tomato, avocado and mayonnaise wrapped in pizza dough baked fresh in Ribalta's wood burning oven. Ribalta will also offer its own version of a game day favorite with limoncello-marinated chicken wings special for $6. Ribalta / 48 E 12th St btwn University Pl and Broadway ||
More info here
Massive Queens barbecue joint and drinking hall The Strand Smokehouse will host a Super Bowl party complete with buy-back cards and a big-screen projector to show the game. Guests who purchase the cards (prices range from $50 to $200) get 50 percent more value added on automatically. So a $50 buy-back card entitles guests to $75 worth of food and drink. Enjoy craft beer specials and buckets filled with wings, turkey legs, baby back ribs and more.
Ginny's Supper Club
, the live-music and dinner venue underneath Marcus Samuelsson's acclaimed Red Rooster Harlem, will be hosting a Super Bowl viewing party with an all-you-can-eat Rooster Tailgate Buffet that will feature items like BB Roo Chicken Bites; Helga's Meatballs with mashed potatoes and lingonberries; Yard Bird with pickles, hot sauce and gravy; Red Line Burger Sliders; BBQ Pork Sliders; Shrimp & Dirty Rice; Loaded Baked Potatoes and Chili Orange Glazed Chicken Wings for $25 a person. Ginny's Supper Club / 310 Lenox Ave at ||
More info here
Pork. Beer. Football. Chef Dale Talde. What more do you need? The Top Chef winner's Park Slope eatery, Pork Slope, is offering an all-you-can-eat menu with selections like loaded nachos, crafted cheeseburgers, and porky melt sandwiches. For $75 a person, that includes unlimited beer pitchers, well drinks, and Slippery Slope combos. Kick back and watch the game on one of the three large TVs at the bar. Pork Slope / 247 5th Ave, Brooklyn ||
More info here
Just a hop, skip, and fumble away from Super Bowl Boulevard on Broadway is probably the best deal we have seen for Super Bowl XLVIII. For $15 a person, guests at YOTEL New York can enjoy an endless buffet of football favorites including wings, sliders, hot dogs and guacamole and chips while watching the game on a giant screen. Their Super Bowl tailgate begins at 6 p.m.
YOTEL / 570 10th Avenue at 42nd Street || Reservations: 646-449-7700
La Brochette
is hosting a kosher Super Bowl party. The upscale kosher steakhouse and sushi bar invites football fans to join them for game day specials including a selection of brochettes ranging from beef, kafta, veal and lamb with a variety of sauces and a prime-meat sampler. Think lamb chops, filet mignon, short rib and center-cut rib eye. Enjoy a selection of HE'BREW kosher beer brought in especially for the game. La Brochette / 340 Lexington Ave at 39th St || More info: call 212.972.2200 or
go here.
The Cannibal Hell's Kitchen will be hosting a Mexican large format feast to celebrate this year's game. While the game plays on projection screens throughout Gotham West Market, guests can help themselves to several different kinds of taco bars, plus a margarita and sangria bar. Small snacks such as chicharrons and peanut jalapeno poppers will also be on hand. The party starts at 5 p.m. Tickets are $120. The Cannibal Hell's Kitchen at Gotham West Market / 600 11th Ave btwn 44th & 45th St || Reservations: Call 212.582.7947 or email cory@thecannibalnyc.com
Grab a group of friends and celebrate at giant beer parlor Houston Hall. Enjoy local brews made just across the East River at Greenpoint Beer Works in Brooklyn. A $50 ticket will get you inside with complimentary wing specials, make-your-own burgers and more. All signature beers are available at a cash bar. Table reservations are available and group packages available.
Houston Hall / 222 West Houston Street at Downing St. ||
More info here
AVOID THE CROWDS
Some local spots are offering up more exclusive packages for those who want to watch the big game without worrying about having a beer spilled on them by a stranger.
Host a Super Bowl tailgate at Royalton. Reserve your own 70" flat screen TV in a private sunken seating area in Royalton's living room and nosh on cheeseburger sliders, jambalaya poppers and buffalo chicken wings. For groups of 20 or more, $75 a head will get you three hours worth of bottomless beer buckets of Amstel Light, Corona and Yuengling. For $95 per person you can have a full open bar. Royalton / 44 W 44th St btwn 5th & 6th Aves || Reservations: Jennifer.Snowden@mhgc.com
W Times Square, W New York and W Downtown will be offering private W Skyboxes for groups of up to 25 on the day of the Super Bowl. $350 per person includes a five-hour open bar, passed tailgate-inspired foods and an exclusive luxury space to watch the action on HD projection screens.