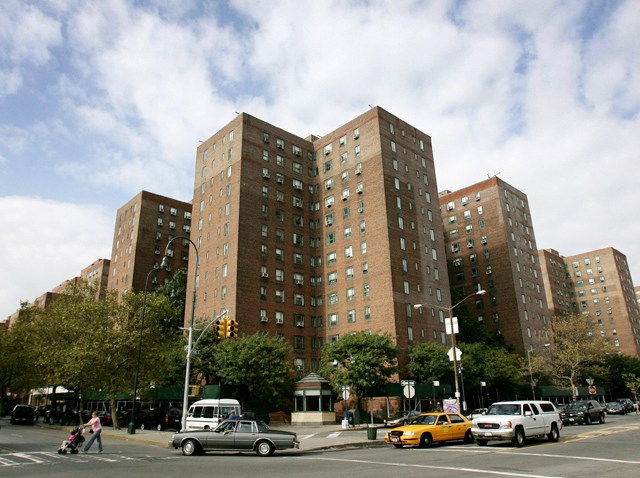 New York's top court dealt a blow to the owners of the sprawling Stuyvesant Town and Peter Cooper Village today, ruling they wrongfully raised rents on thousands of middle-class Manhattan apartments.
The court case comes just weeks after it was revealed that current owner, a partnership of Tishman Speyer Properties and BlackRock Realty, and the former owner, Metropolitan Life, are in danger of running out of money and defaulting on $4.4 billion in loans for the property.
Today's ruling by the state's highest court may mean that Tishman and company may have to pay an estimated $200 million in rent overcharges and damages to tenants of some 4,000 apartments. In a six-to-two ruling, the judges said the owners improperly raised rents beyond certain set levels while receiving tax breaks from the city for major renovations.
Residents had sued the property owners, claiming their apartments had been improperly deregulated, allowing rents on some 3,000 apartments to rise 25 percent to market rates.
In a statement following the ruling, Tishman said "While we respect the Court's decision, we view this as an unfortunate outcome for New York. The ruling, which reverses 15 years of government practice, raises a number of difficult issues that will need to be resolved by the courts and various government agencies in the coming months and years."

A state appeals court had previously ruled in favor of the tenants, saying Tishman Speyer Properties could not deregulate those apartments while receiving a so-called J-51 city tax credit.

The case is being closely watch by New York City landlords, who are concerned the court's ruling could affect as many as 80,000 apartments who may have also improperly raised rents.
Alexander H. Schmidt, a lawyer who represented the original nine plaintiffs in the class-action case, told the New York Times he was thrilled by the decision, not just for his clients but the "thousands of current and former market rate tenant class members they represent."
"The court's ruling is a landmark victory for them and for similarly situated tenants citywide," he told the paper.
The purchase of Stuy-Town and Peter Cooper Village in 2006 amounted to the biggest real estate deal in U.S. history.

It has been a summer of bad news for Tishman. The partnership purchased the 110-building Stuy Town/Peter Cooper Village rental complex for a record $5.4 billion. It is now valued at just $2.13 billion by a credit rating agency.
Jerry I. and Rob Speyer and their partner, BlackRock Realty have nearly exhausted an additional $890 million set aside for apartment renovations, landscaping and interest payments. Rents are down 25 percent from their peak, officials said.
Real estate analysts have found that Tishman's money will run out as soon as December and that the owners are at "high risk" of defaulting on $4.4 billion in loans.

"We are absolutely keeping an eye on it," said Rafael E. Cestero, the city's housing commissioner said of the situation.