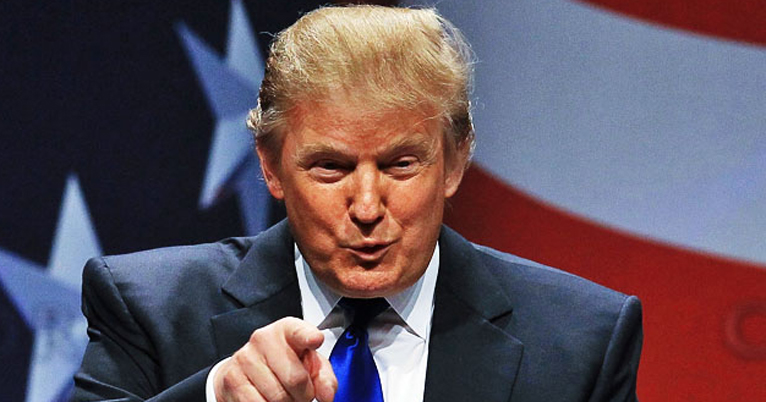 Donald Trump would almost certainly pay for a presidential campaign out of his own pocket if he runs — and now has a $2 billion warchest to draw from, a longtime adviser told POLITICO.

The comments from longtime controversial Republican consultant Roger Stone came in a wide-ranging interview about The Donald, in which the advisor mused about the possibility of a social media-heavy campaign, the dominant issues in the contest, and trash-talked some of the GOP field — predicting Sarah Palin won't run, saying Mike Huckabee can't get elected, and eviscerating Mitt Romney for everything from flip-flops to his "robotic" appearance to driving to Canada with the family dog strapped to the top of the car.

Stone, who's discussed a possible White House bid with Trump, said he is seriously weighing a campaign — it's not lark or publicity stunt.

"I would imagine he would be a self-funder," the white-haired, dapperly-dressed Stone said Thursday over a linguine-and-white-clam-sauce lunch in Midtown Manhattan.

"I think he passes up public finance because he then could say, 'I don't answer to anybody but myself and the American people, not special interests,'" Stone said. "He's sitting on $2 billion in cash. That's what he says. And if that's true, he could write a check for $200 million if he wanted to."
The rest of the field, in Stone's view, is "very slow."

Mike Huckabee? "Pretty talented guy in terms of communication. I don't see us electing an evangelical minister president."

Mitt Romney? "He's an automaton. He looks like a robot designed by Disney. I mean, his jaw and his hair is just a little two perfect. "

Stone hit him on RomneyCare and pegged him as a flip-flopper — but his toughest slams were about the family dog.

"There is a certain obtuseness — who straps their dog to the roof of their car and drives from Boston to Canada?" Stone asked, referring to a story from the 2008 campaign, when the Boston Globe revealed he drove a station wagon with the family dog Seamus in a carrier strapped on top for 12 hours.

"Who could be. That. Stupid," Stone added. "Would you elect somebody with that kind of judgment? The dog could have been killed. There are more dog owners in America than there are conservatives. And it's not funny. So if you see a 527 [independent group] popped up called 'Dog Lovers against Romney,' you'll know. I wouldn't be shocked at all if that happens. "
Sarah Palin? "Not gonna run," he told POLITICO. "I like her a lot but, you know, she is in my opinion totally polarized in such a way that — unfairly or fairly — people in the middle have a negative view of her that I don't think allows her to reach beyond the base to win a general election," he said. "I think that's terribly unfair. I like her a lot. Some of it is self inflicted, some of it is not."

Stone said of Trump, "I don't think he's particularly an admirer of any of these other candidates. ... Ironically he's probably closer philosophically with Ron Paul than the rest of them."

It was Trump's diss of Paul in his CPAC speech that got the Paul supporters revved up. But Stone noted they both oppose the Iraq war.
Stone is a former Nixon adviser and devotee who was famously photographed with body art of the disgraced late president between his shoulder blades.

The self-described dirty trickster, who advised Tom Golisano's independent run for New York governor in 2002, has been involved in New York politics for years. Among his more recent adversaries is Eliot Spitzer, who he was said to have helped take down by telling the feds months before the then-New York chief executive resigned that the governor frequented call girls, and had a penchant for keeping black socks on.

As for Trump's platform, "he's already laid out most of it," Stone said. "A harder line against the Chinese, repeal of most favored nations' trading status, you'd have to have a new policy on OPEC to bring oil prices down since they're kicking the s*** out of it.

"I think he'd be against the war in Afghanistan, which is a winner," Stone added. "So in a certain way he's an anti war Republican. [And] job creation and the economy. He's got more credibility on that than anybody else running. He's one of the most successful businessmen i n the world, if not the country. That's enough to run on right there. "

The exact amount of Trump's liquid assets is impossible to gauge without financial disclosure statements, something Stone acknowledged would be a burden for the developer-turned-reality-TV titan.

Still, he insisted, The Donald is halfway there, with massive name recognition and a tremendous ability to keep his moniker in voters' faces.
Stone is quick to say that he himself is essentially an "observer" of the entire process, and that he is not part of any official Trump mechanism.

But he has been an adviser to Trump for decades, and is his former Washington lobbyist. He also headed up Trump's presidential exploratory committee in 2000.

Stone's been aggressively fanning the flames in favor of a Trump run on his own website, The Stone Zone, and would likely be a key player if Trump actually did run.

That's a long way off, he maintains.

"Any discussion of his running for president is not nearly that far along," he said. "I've only talked to him about it two or three times and on the basis of those conversations, I'd have to say that he seems far more serious than he has."

He described Trump as a settled family man with his former model wife, Melania.

"It'll have to be unconventional," he said of a Trump campaign. "It would have to make... use of both TV and social media."

But, he added, "I think even people who don't like him have a certain fascination with him. ... He's Donald Trump. There's a public fascination. So I don't think he has to go shake hands among the pig farmers."

Besides, Stone added of the notorious germaphobe Trump: "We're well aware of his position on hand-shaking."

He added: "Look, he'll tell you himself, he's not a hard worker. He'll be the first guy to tell you that. or as he likes to say , 'I've worked smart, I don't have to work hard. You know why? Because there's a difference between hard workers and smart workers.' … John Kennedy was not that hard a worker. "

Stone said he's not sure yet whether Trump is ready for the lifestyle changes running would entail.

"He's got the greatest life in the world," Stone said. "He loves what he's doing. He's not big on travel."

He's also not a professional politician, something Stone is familiar with after advising both former Madam Kristin Davis and Carl Paladino for governor last year.

Asked if he was concerned about some of the things that Trump might say or do on the trail, Stone swiped at failed Delaware Senate hopeful Christine O'Donnell, quipping: "I know he's no proponent of witchcraft, if that's what you mean. With Trump, what you see is what you get."
Copyright POLIT - Politico