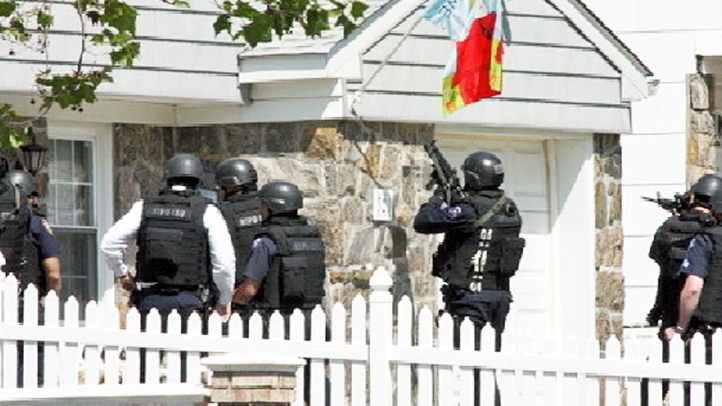 A normally peaceful Staten Island neighborhood is on edge after another armed break-in what police say is the 14th home invasion in the borough this year.
At about 9:30 a.m. Thursday, a resident on Elverton Avenue went to answer a knock at the door. When he opened the door, he saw a woman dressed in scrubs claiming she was a home health aide.
When he told the woman he didn't use a home health aide, a man who appeared to be her accomplice pushed his way into the house flashing a gun, police said.
The residents made it outside safely and called 911, but the would-be robbers fled. SWAT teams were brought in, and police helicopters flew overhead.
Across the street, school officials at PS 32 ordered a lockdown to be safe.
Nine-year-old Genna Keshner said there was an announcement in her third-grade classroom.
"They said, 'No outdoor play, nobody's leaving the building,'" said Keshner. "'Somebody's outside that's bad.'"
Residents were stunned by the surge in armed robberies in the otherwise quiet neighborhood.
"This is supposed to be one of the best neighborhoods in Staten Island," said neighbor Anthony Barletta. "Things like this can happen anywhere. You don't know the reason, like if they were targeted."
No one was hurt and no valuables were stolen in the latest incident. Police are hoping surveillance cameras on the school provide clues about the suspects.
Get the latest from NBC 4 New York anytime, anywhere. Follow us on Twitter, Facebook and Google+. Get our apps here and sign up for email newsletters here. Get breaking news delivered right to your phone -- just text NYBREAKING to 639710. For more info, text HELP. To end, text STOP. Message and data rates may apply.