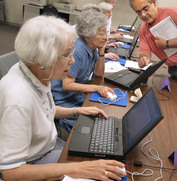 Nobody noticed it when
Gov. Paterson
unveiled his budget plan last month, but a massive cut to local senior programs is buried in the fine print.
If approved, the Bloomberg administration tells NBCNewYork.com the cut could force them to close between 30 and 75
NYC
senior centers.
"It could potentially have a devastating effect," said
NYC Aging Commissioner Lilliam Barrios Paoli
.
"I know it's a hard time but the average age of seniors in our centers is 82 and they're frail. Ninety percent of them are very poor."
While senior centers can be a lifeline for older New Yorkers, the State is not "mandated" to fund them. Paterson's budget proposal would redirect up to $25 million in federal funds - which were historically sent to senior centers - to those "mandated" programs instead. Those include domestic violence and adult protective services, as well.
"This policy might have been well intended, but they didn't look at the consequences" Paoli said of the Paterson administration.
Bobbie Sackman
who advocates on behalf of senior centers tells NBCNewYork.com " This is a bombshell. The centers would close overnight, leaving frail elderly people without meals and other services. They will be simply stuck at home alone, hungry and alone with nowhere to go."
State budget spokeswoman
Jessica Bassett
said that "difficult choices must be made in order to eliminate the $8.2 billion deficit," but added the Governor's proposal would not be a total loss for the City, because some of those federal dollars would also help defray City's cost for "mandated" services, freeing up some money for other purposes. At a minimum, the City estimates it would end up 13 million dollars in the hole.