What to Know
Despite a few snow flurries and rain sprinkles, the tri-state stayed mainly dry overnight as two storm systems slide through the region
New York City stayed rather dry as overnight temperatures were above freezing; the Thursday morning was not impacted
The clouds will begin to break up by noon on Thursday, but it will stay breezy from time to time as highs reach the 40s
Despite two storm systems sliding through the tri-state area overnight, the region stayed mostly dry as the area dodged the bulk of the precipitation except for a few flurries and sprinkles in some spots.

Low pressure moved up from the south and pushed rain over the Jersey Shore and much of Long Island. That system pushed out by about 4 a.m before dropping a little bit of rain.
An upper-level disturbance moved toward the region and clipped northern parts of the tri-state area, dropping some snow, but by 7 a.m. the flurries and sprinkles cleared up quickly.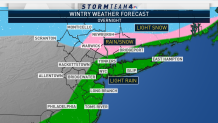 New York City stayed rather dry as overnight temperatures were above freezing. The Thursday morning was not impacted.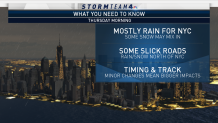 Not much snow accumulated, even in the higher elevations of the region.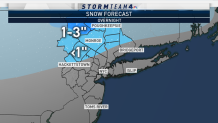 The tri-state drys out quickly Thursday, but it stays breezy from time to time. Highs will soar into the 40s.
Track the weather with our interactive radar here or below, and check here for any severe weather alerts in your neighborhood.