A sleeping woman was raped in her own bed in Brooklyn, police said.
A male attacker allegedly made his way into the 24-year-old woman's unlocked apartment on Halsey Street in Bushwick at 10:30 a.m. Saturday, according to the NYPD. It was then that the woman was startled awake, and the man allegedly attacked and raped her.
The 24-year-old woman eventually pushed the man off of her and he then ran away, NYPD officials said.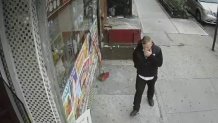 She called authorities who say she was taken to an area hospital, where she was treated and then released.
Police released surveillance footage of a man who they say is a person of interest. Surveillance footage shows the man trying to open several other locked doors at the building.
The victim's grandmother told News 4 she thinks she saw the person on that video in her apartment building around the time of the attack.
He said he came from the third floor when I heard my granddaughter crying and I ran in there to see what's going on," said the grandmother, who is not being identified to protect the identity of the woman who was attacked.
The grandmother added, "She said that she was sleeping and he got on top of her."
Anyone with information about the attack should call Crime Stoppers at 1-800-577-TIPS.
Top Tri-State News Photos